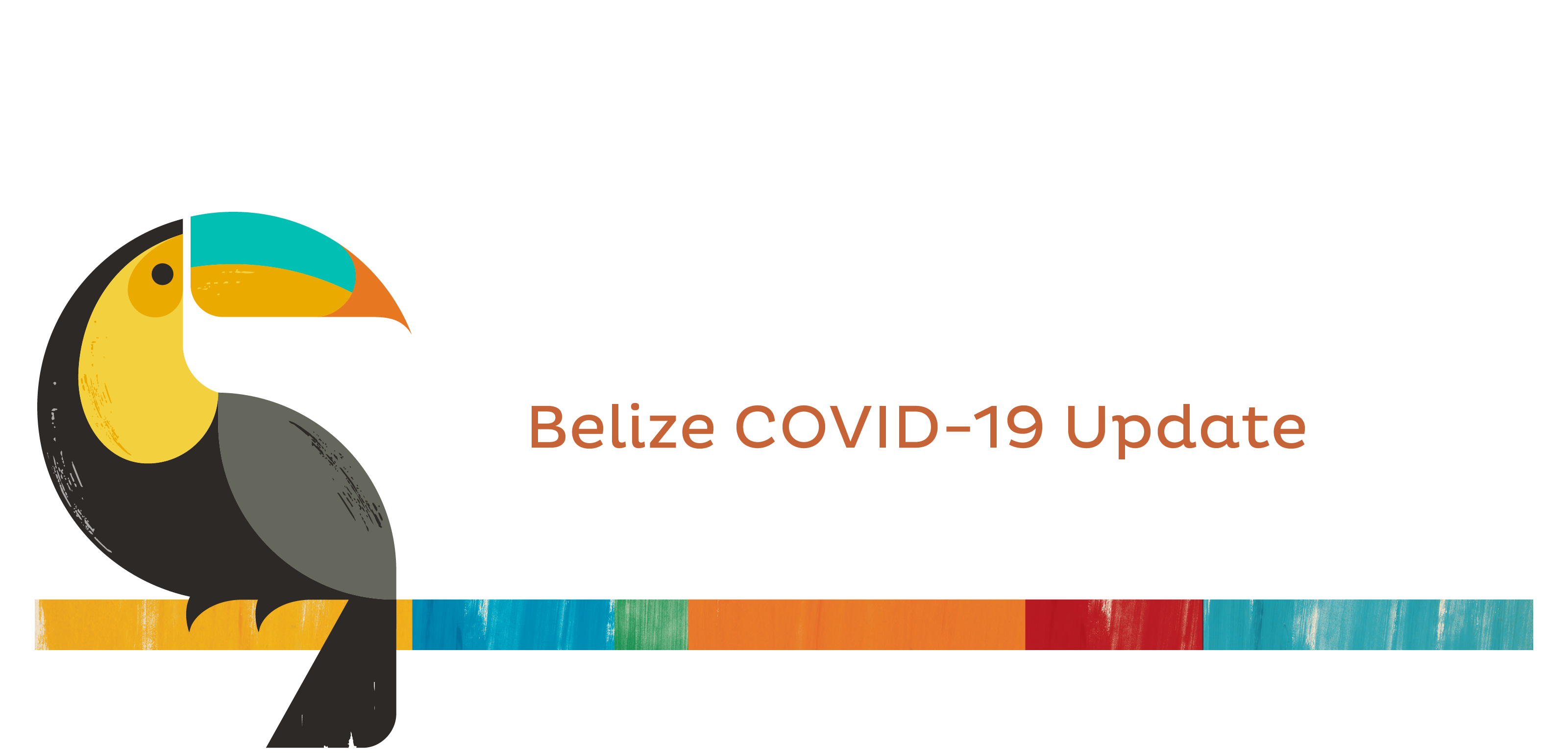 In an effort to keep the general public informed, the Ministry of Health has been providing regular updates on continuing developments with respect to COVID-19.
Keep up to date with official news and advisories regarding the COVID-19 pandemic.
FAQs Regarding Travelling to Belize
Updated October 19, 2020
Who can visit Belize?
Any traveller is permitted to visit Belize at this time.  All travellers must:
download the Belize Health App and input the required information no more than 72 hours prior to landing in Belize, and
bring along a negative COVID-19 PCR test taken within 72 hours of arrival in Belize, or test upon arrival if you are unable to bring a negative PCR test.
Where can I find the Belize Health App?
The Belize Health App is available for download via APK file for Android (version 1.09 or newer) and in the App Store.  The App can also be downloaded via https://www.travelbelize.org/health-safety.  The App can be downloaded at any time prior to your trip to Belize, but your information should be entered no more than 72 hours prior to your arrival in Belize.   Once complete, you'll receive a unique travel ID and QR code; it is recommended that you take a screenshot of this to show the Health Officer upon arrival in Belize.
I do not have a smartphone/not travelling with a phone – how will I be able to register for the Belize Health App? 
If you don't have a smart phone, the App can also be downloaded to a tablet. 
Where can I find a list of all the countries approved for entry to Belize?
The Government of Belize (GOB) does not currently have any travel bans in place.  We encourage you to visit www.travelbelize.org regularly for updates on Covid-19, as the situation remains fluid.
What specific measures are being taken in Belize to protect visitors from contracting the virus?
As we reopen for travel, our primary concern is to assure both travellers and residents that Belize's tourism product is cleaner and safer than ever before.  A series of new enhanced health and safety protocols have been put in place to protect visitors, Belizeans, and our communities. 
These include:
Mandatory use of face masks in public spaces
Enforcement of social distancing measures in public spaces such as restaurants, bars, grocery stores, retail stores, etc.
Introduction of a "Tourism Gold Standard Program" for hotels, restaurants and tour operators, and a certification program for gift shops, and car rentals and taxis. The Gold Standard program seeks to enhance the tourism industry's health and safety standards by adapting new behaviours and procedures to ensure both employees and travellers are confident in the cleanliness and safety of Belize's tourism product. Some of these new measures include:
Online check-in/out, contactless payment systems, and automated ordering/booking systems
Hand sanitizing stations
Enhanced cleaning and increased sanitization of public spaces and high touch surfaces
Capacity restrictions for all tourism sites to ensure social distancing can be maintained
Smaller tour groups to provide a more intimate tour experience
Gold Standard entities can be easily identified by looking for the Gold Standard Certificate or Safety seal.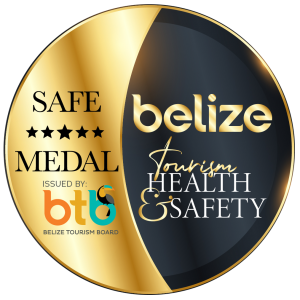 If I am unable to take a PCR test prior to traveling to Belize, will I be required to test upon arrival? If so, what is the cost of the test?
Yes.  It is recommended that you bring along a PCR test taken within 72 hours of your flight to Belize with a negative result as this will provide for a 'fast track' arrival process; depending on the results of your health screening, you may be randomly selected for secondary testing. 
If you are unable bring along a PCR test, you will be required to take a Covid test upon arrival; the cost is US$50.00.
If I test positive at the airport, will I be able to get a flight back out of Belize without having to be placed in quarantine?
No.  All arriving passengers who test positive at the international airport will be placed in mandatory quarantine for a minimum of 14 days at the passengers' expense.  It is therefore recommended that you explore the possibility of acquiring travel insurance prior to your trip to Belize.
Will children (under 16 years old) be required to present a negative PCR test or be tested upon arrival as well?
Yes.  Currently children aged 5 years and older are being tested in Belize.  As the situation remains fluid, protocols are subject to change.
If you test positive upon arrival, you will be placed in mandatory quarantine for a minimum of 14 days at your expense.
Will I be able to rent a car?
Yes.  Visitors will be able to rent a car from the international airport.
Visitors may rent and self-drive vehicles only if pick-up and return are at the international airport, and
GPS tracking will be used for contact tracing purposes
How do I get from the airport to my hotel; are there certified transportation providers?
Yes.  Your hotel may offer airport pick-up services depending on their location.  Only approved transportation providers are permitted.  We recommend that you liaise with your hotel to learn more about how you will arrive at your hotel. 
Upon arrival in Belize, what will the Immigration and Customs process entail?
Enhanced health and safety measures have been adapted to protect both officers and arriving passengers.  Some of these measures include protective barriers to reduce contact between the officers and the passengers, kiosks for scanning of passports upon entry, luggage scanners in the Customs Hall, and safety barriers where inspection of luggage is required. 
How long should I anticipate getting through arrivals?
If a negative PCR Covid test is produced upon arrival, you immediately proceed to the 'fast track' arrivals processing.  Time varies depending on the result of your health screening and test results. 
If I am not booked at a Gold Standard Hotel, can I still travel to Belize? If so, will I be required to go into quarantine?
Tourists visiting Belize should book their stay at a Gold Standard hotel.  The list of Gold Standard hotels can be found at https://www.travelbelize.org/health-safety
Am I required to wear a mask; if yes where?
Yes.  By law, all citizens and visitors to Belize must wear a face mask when in public spaces.  
What should I do if I start to exhibit symptoms during my vacation? 
If you start to exhibit any Covid-19 symptoms, immediately notify your hotel's front desk, and they will implement their Covid Response Plan.  Should you develop symptoms, and test positive for the virus while in country, you will be required to quarantine for a minimum of 14-days at your expense.  It is highly recommended that you obtain travel insurance prior to departure in the event that you become sick while on vacation. 
If someone at the resort where I'm staying tests positive for COVID-19, would everyone be quarantined for 14 days?
This is dependent on the Ministry of Health's contact tracing exercise.   The hotel will utilize its communication plan to advise of any necessary steps to be taken. 
Are there still restrictions on movement for tourists?
Tourists visiting Belize can move about freely, however it is recommended that they remain within the Tourism Safe Corridor.  The Safe Corridor includes Gold Standard certified restaurants, tour operators, tourism sites and attractions, and gift shops.  These Gold Standard and certified entities have all been trained and have implemented enhanced health and safety measures.  
If we are visiting Belize for an extended stay (12 months) will we still be required to download the Belize Health App?  
Yes.  All visitors (non-residents) to Belize will be required to download the Belize Health App despite the length of your intended stay.
Is a digital copy of my negative PCR Covid-19 test acceptable?
An official email or other correspondence from the facility where your PCR test was taken indicating your result will suffice as proof of your negative test.
If several people on the same flight tests positive, what happens to the other passengers who were also on that flight?
Should several passengers test positive from the same flight, the Ministry of Health will activate its contact tracing exercises.  This is why downloading the Belize Health App is a mandatory entry requirement for the country.
Can I visit multiple Gold Standard Resorts during my visit to Belize?
Yes. You can spend time at several different approved Gold Standard resorts during your time in Belize.  Transfers to each resort can be arranged by the property and carried out by a Gold Standard tour operator or certified provider.
Will passengers also be tested when they depart the country?
No. Passengers are only tested upon arrival to Belize.
Where can get I get a Covid PCR test?
You will need to contact your local health authorities to find the nearest Covid testing facility as well as to determine the approximate timeframe for receiving results.
FAQs for Stakeholders
How can I submit an application for my property to be considered for the Tourism Gold Standard Recognition Program? 
The application form for the Tourism Gold Standard Recognition Program can be found at https://belizetourismboard.org/wp-content/uploads/2020/07/Tourism-Gold-Standard-Program-for-Accommodations_FInal-1.pdf
You will need to provide all required information in the form and submit a self-declaration indicating that the property has implemented all 9-points required. 
Will hotels be allowed to accommodate both local and international guests?
It is at the discretion of individual properties to decide if you will accommodate both local and international guests.  The enhanced health and safety protocols being implemented are to protect both Belizeans and visitors, and once adhered to will mitigate the risk associated with spreading Covid-19.
How does a local, independent tour operator fit into these new protocols, and the post-Covid travel environment?
All licensed tour operators will be given the opportunity to apply to be a part of the Tourism Gold Standard Recognition Program.  Once the operator meets the criteria of the program, they will be approved, and listed as an approved Gold Standard provider in all of the BTBs marketing efforts. 
What protocols are required for Vacation rental companies?
All licensed accommodations providers – hotels, vacation rentals, guest houses, hostels, etc. – are encouraged to implement the new enhanced health and safety protocols laid out in the Gold Standard Recognition Program.  The post-Covid traveller has health and safety as a top priority and as such, will be seeking out accommodations which have enhanced their safety protocol.
Can live aboard vessels host tourists?
Yes, Live aboard vessels can also apply for the Gold Standard Recognition Program.
Can I accommodate outside guests at my restaurant/bar, spa, etc.?
Yes, you can accommodate outside guests at these facilities once the proper protocols are adhered to
What facility will be used to quarantine travellers who test positive upon arrival, and what is the average cost to quarantine?
Yes.  The Government approved quarantine facility is the Ramada by Wyndham Princess Belize City.  This is the only approved quarantine facility for visitors who test positive for Covid-19 upon arrival. The cost per day is approximately US$100 and is inclusive of 3 meals per day.
Where can I access the BTB training sessions on the new protocols?
All of the BTB enhanced health and safety protocol webinars for the accommodations sector and tour operators can be found at https://www.belizetourismboard.org/tourism-resources/belize-national-guidelines-for-reopening-accommodations-guidelines/
Belize Travel Health App
Traveller Classifications and Entry Requirements for Belize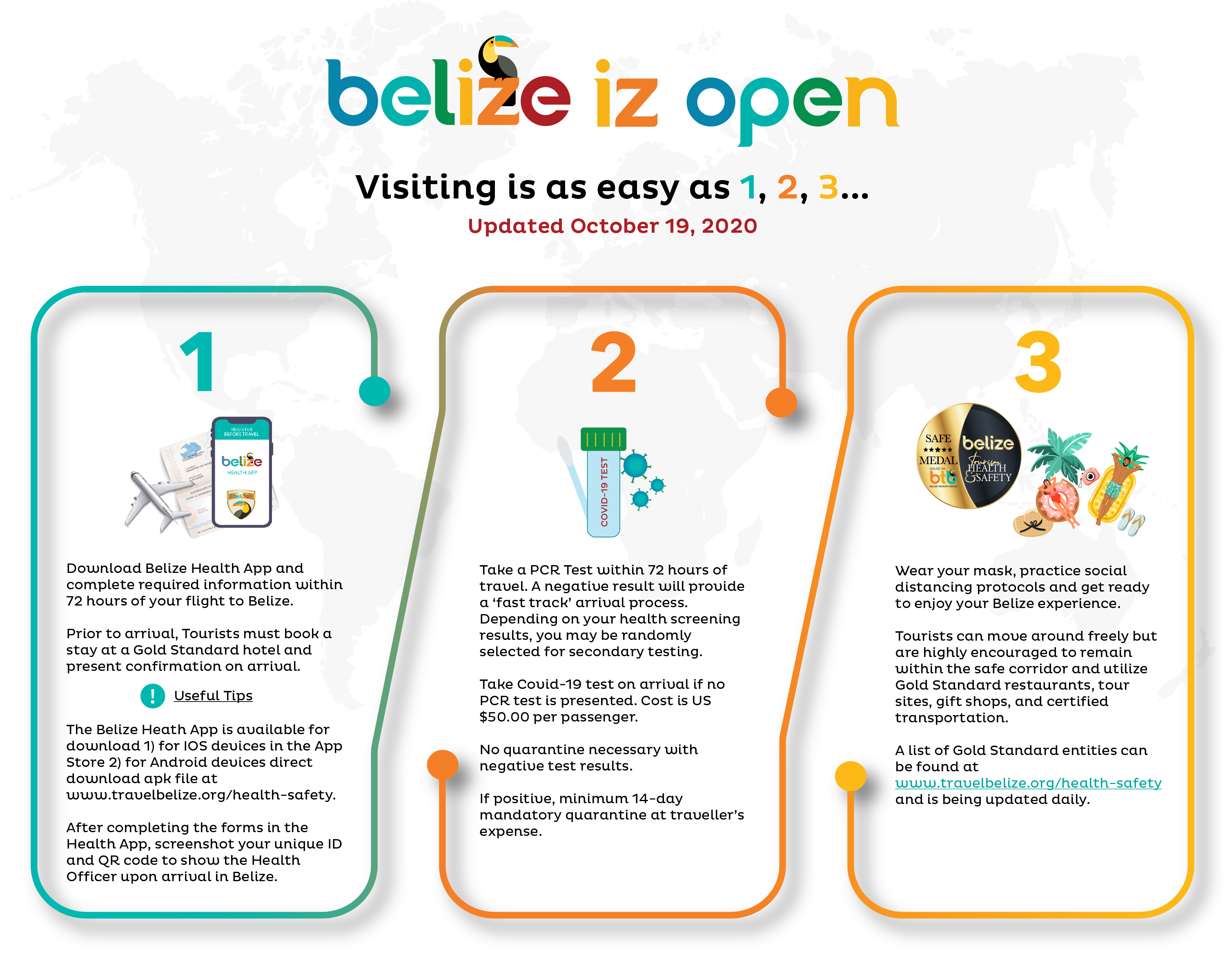 Belize safe Corridor for Tourists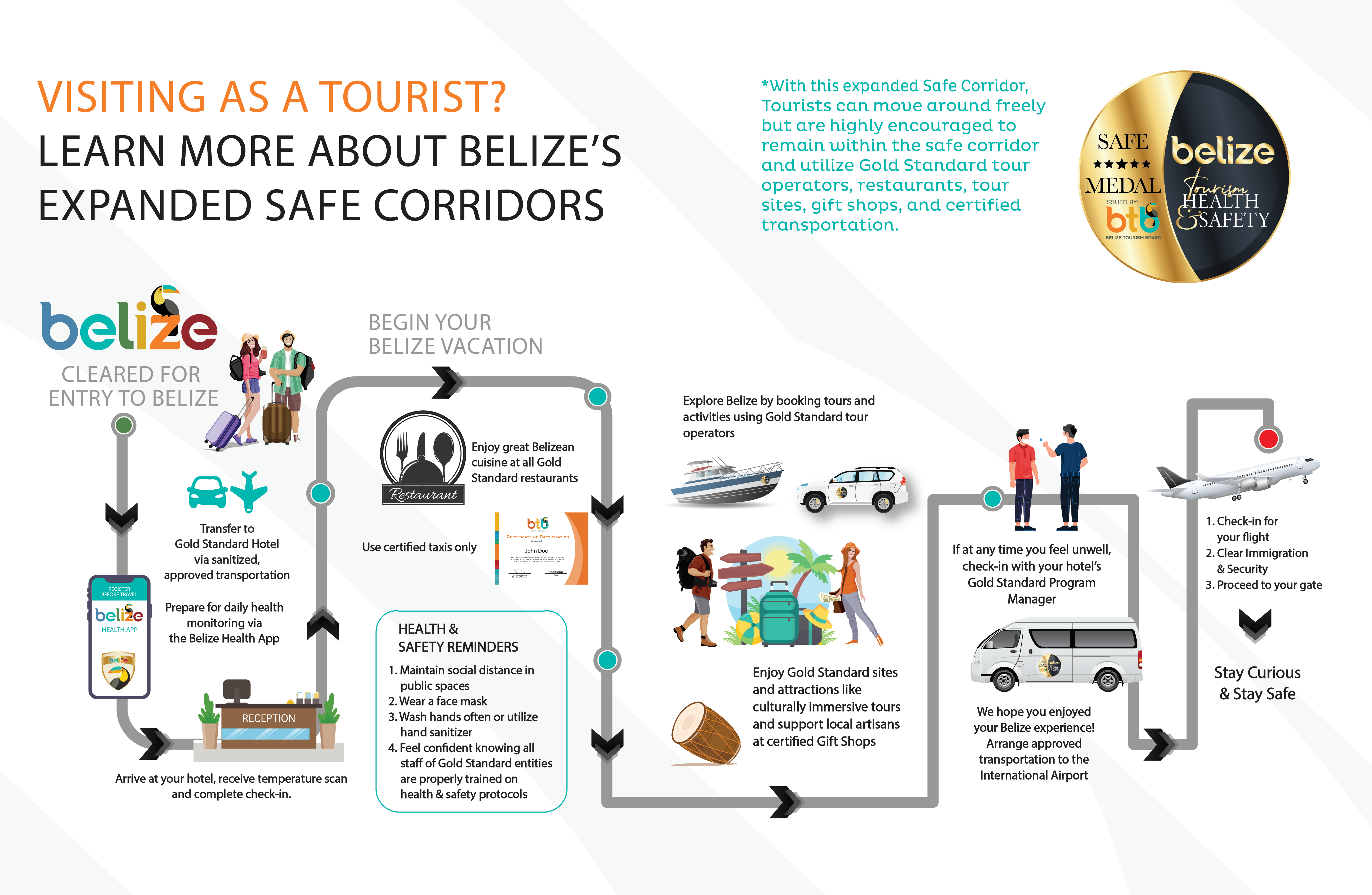 Belize Travel Reopening Plan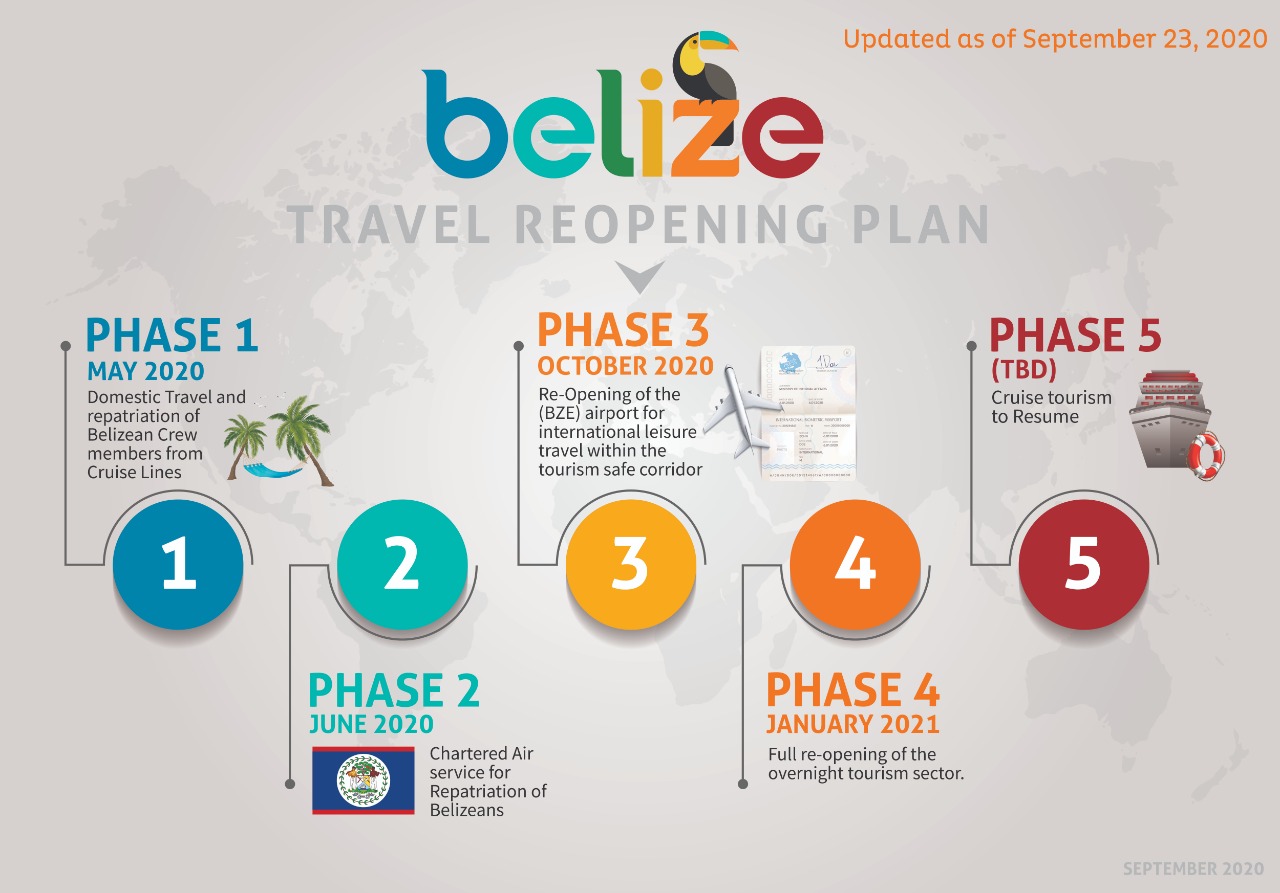 The COVID-19 Tourism Dashboard is a summary compilation of key updates and indicators from the Ministry of Tourism & Civil Aviation, the Belize Tourism Board and other third-party data. The purpose of the dashboard is to provide insights for the tourism sector across the following key areas: Public Health & Safety Updates,  Impact on Tourism Sector, Recovery Indicators and Best Practices for Reopening.