November 5, 2019
Posted by:

Perry Bodden

Category:

Community, News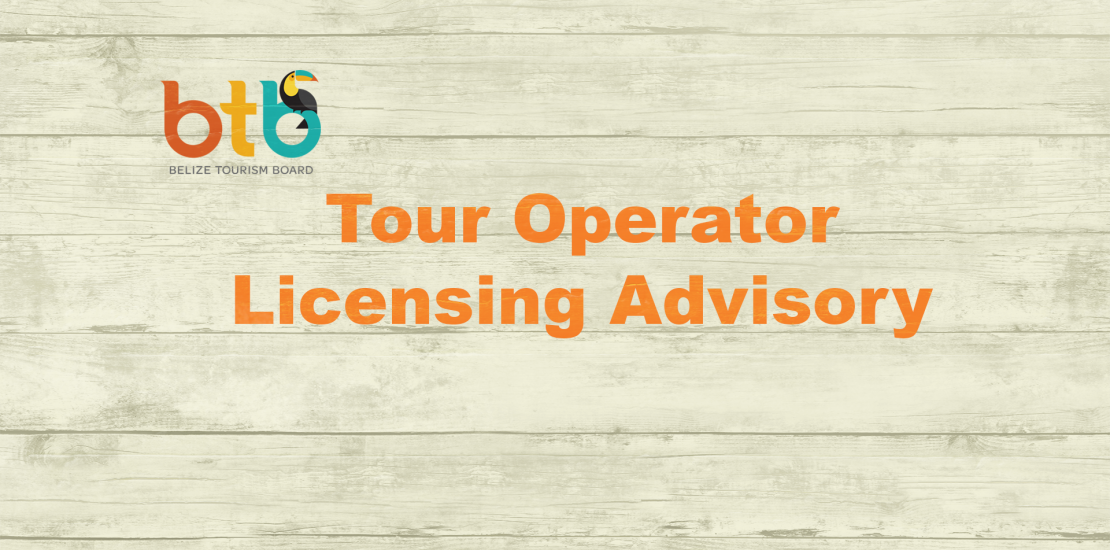 Renewing Tour Operator Licensing Advisory
The Tour Operator Sector is hereby advised that Tour Operator Licenses expire on December 31, 2019. Applications for renewal are now being accepted at BTB Offices in Belize City and San Pedro.
ALL Renewing Tour Operator Applicants must submit:
Completed Application Form (signed and dated by owner)
Copy of Business Name Certificate (Applicable to business names)*

Certified

partnership agreement evidencing distribution of shares if business has one or moreowner(s) who is not a Belizean or Permanent Resident
Proof of citizenship or Permanent Residency (An entity applying for a Tour Operator License MUST be majority owned or controlled by Belizeans or permanent residents of Belize)
Original Police Record of all owners or shareholders (dated within 6 months from date of submission)
2019

certified

list of shareholders and Good Standing (Applicable to companies)
Completed Employee Template – BTB Form page #5
Completed Safety Equipment Checklist – BTB Form page #6
Completed Tour Package Template – BTB Form page #7 (One (1) template per tour)
Valid license, registration and passenger liability insurance for each vessel and/or vehicleRental agreement and owner's biodata passport (if vessel or vehicle is rented)
Rental agreement and owner's biodata passport (if vessel or vehicle is rented)
Valid Public Liability Insurance/Tour Operator Insurance
Valid Tour Operator Trade License (if business is located in town or city)
Detailed Emergency Plan (if there has been a change)*
Two (2) clear photographs of the business (the interior and the exterior)*
License Fee of $250.00 upon approval of application
*Mandatory if applicable and/or if a valid copy has not been submitted to the BTB
Any Tour Operator operating beyond the December 31, 2019 without completing the renewal process will be summoned to Court and if found guilty is liable on summary conviction to a fine and/or imprisonment. In addition, the Tour Operator Committee reserves the right to deny any future application.
Application forms can be downloaded from http://www.belizetourismboard.org/tourism- resources/tourism-forms/ or contact us at:
Belize City 
64 Regent Street, Belize City
San Pedro
San Cas Building, Unit 5B
Triggerfish Street, San Pedro Town