Harvest Caye Cruise Shipping Port NOW OPEN for business
November 18, 2016
Posted by:

Perry Bodden

Category:

International, News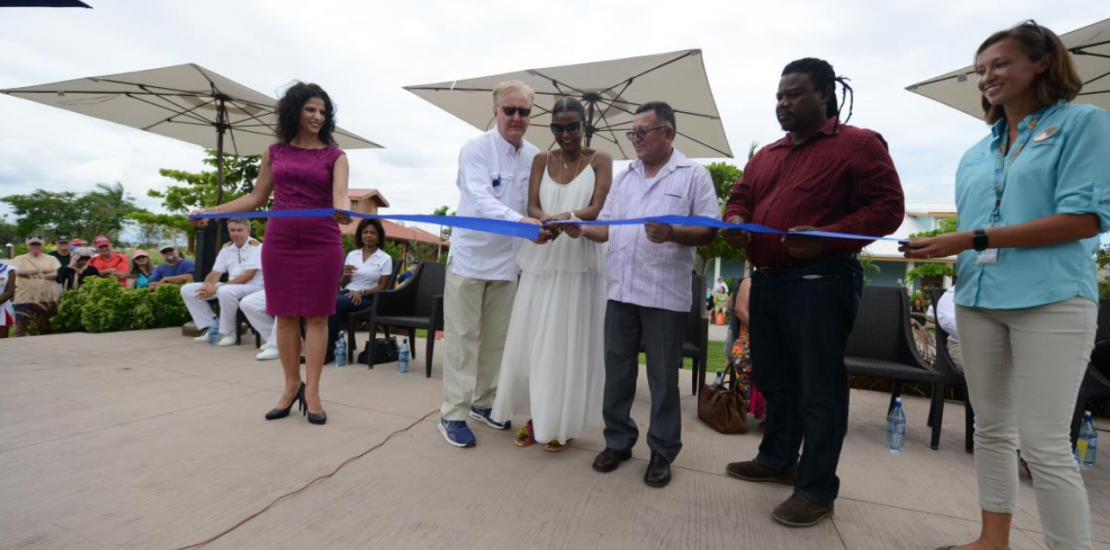 Harvest Caye Cruise Shipping Port NOW OPEN for business
Harvest Caye Cruise Shipping Port, Belize – November 17, 2016 – welcomed the first guests from the Norwegian Cruise Line to experience the beautiful southern Belize. An estimated 2000 guests inaugurated an abundant set of activities on the island and adventurous tours in Belize.
An official ribbon cutting ceremony was held to commemorate the result of a four year undertaking between the Government of Belize and Norwegian Cruise Line Holdings Ltd in working together to develop a unique cruise destination. Colin Murphy, senior vice-president of destination and strategic development for Norwegian Cruise Line Holdings Ltd, Manuel Heredia, Minister of Tourism and Civil Aviation for Belize, Hon. Edmund Castro, Minister of Transport and NEMO, along with Mrs. Kim Simplis Barrow, wife of Belize's Prime Minister Dean Barrow took the honor to cut the ribbon and officially open the Port for operations.
Hon. Manuel Heredia Jr. stated that, "Today is the product of the government's continued pledge to entrench tourism as a top national priority and to promote tourism as a main engine for overall economic growth of the country. This investment alone is projected to generate 500 direct jobs and over 1,500 indirect jobs by the year 2020." We have embarked on an unprecedented and incomparable journey. The growth in cruise tourism over the past 20 years proves that Belize is a destination of choice for those seeking adventure, a host of natural wonders, and most importantly friendly and hospitable people."
"Harvest Caye is truly the ultimate Belizean experience and we are delighted to welcome our first guests today," stated Frank Del Rio, president and chief executive officer of NCLH. "We have worked closely with the government of Belize to ensure that that this spectacular destination was authentic for our guests, provided economic opportunities for the local community and preserved and protected Belize's incredible natural beauty.
Guests can enjoy its 7 acre white sandy beaches, luxurious villas, a 1500 square foot pool and a variety of dining and bar options inclusive of international and local cuisine. Harvest Caye's lush landscape allows guests the opportunity to enjoy up close the flora and fauna with its Manatees, Scarlet Macaws and our national Bird the Toucans and for the very brave at heart various native reptiles such as the Boa Constrictors. In addition, there is a spectacular shopping village featuring locally made spirits, chocolate, artwork, craft and grilled skewers; just to name a few. Adventures and exploration are also accommodated via excursions such as river rafting, Maya temples and nature tours.
Belize looks forward to continued sustainable growth in our cruise industry and its contribution to tourism development.
For more information, please visit http://bit.ly/2flnv3e.