December 14, 2022
Posted by:

BTB Admin

Category:

Events, International, News
BTB's National Tourism Awards 2022
Belize City, Belize, 23rd October, 2022: The Belize Tourism Board held its annual National Tourism Awards Gala on Saturday, 22nd October in Belize City. The signature event honored and celebrated the excellence of the industry's top performers for 2022. 
The gala was attended by Hon. Anthony Mahler, Min. of Tourism and Diaspora Relations, other government officials, diplomatic core, industry partners, and other distinguished guests including all nominees and winners. In his remarks, Minister Mahler, thanked industry partners for their resolve to survive and remaining steadfast in their commitment to the tourism industry in the face of the pandemic. 
As the governing body for the tourism industry, the BTB recognized excellence in service and efforts in several categories: Frontline Person of the Year, Tour Guide of the Year, Tour Operator of the Year, Site of the Year, Restaurant of the Year, Small Accommodation of the Year, Hotel of the Year, Posthumous Award, Minister's Award, Lifetime Achievement Award.  Three new categories were introduced being Green Champion of the Year, Health and Wellness Provider of the Year and Cultural Experience of the Year. The addition of the new categories is a reflection of the dynamic growth of Belize's tourism industry over the past year. 
The winners were verified by a panel of judges. The table below highlights the winners for 2022.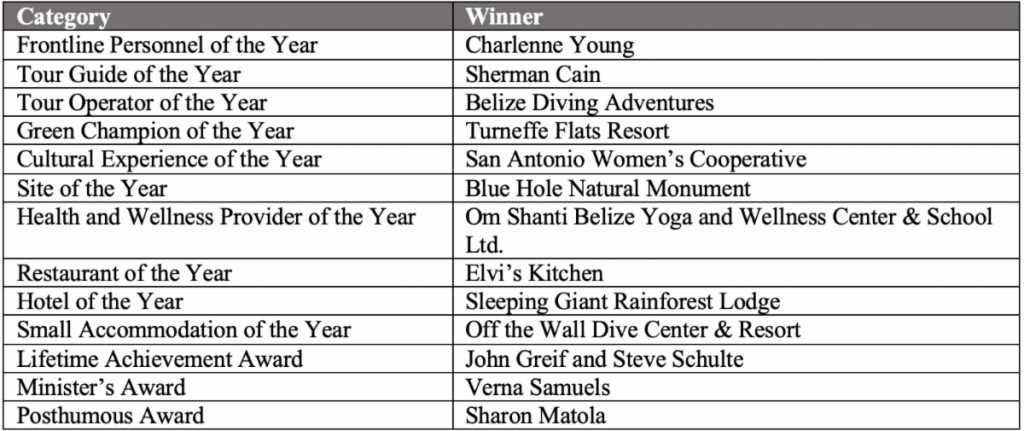 We cannot rewrite the chapters of history already passed, but we can learn from them, evolve and adapt.  When we all help one another, everybody wins.  The BTB takes this opportunity to congratulate all the winners as well as the nominees for their exceptional service and dedication to fast track our industry's recovery and strengthen Belize tourism product.