August 15, 2019
Posted by:

Perry Bodden

Category:

Community, News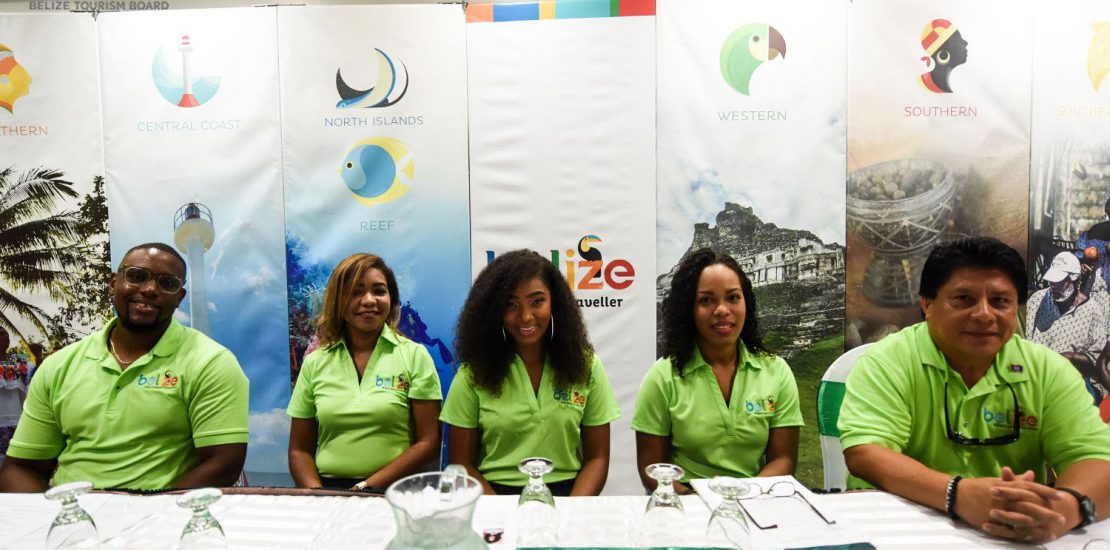 BTB LAUNCHES NEW SEASON OF THE BELIZEAN TRAVELLER CAMPAIGN
Belize City, Thursday, Aug 15th, 2018:   The Belize Tourism Board's (BTB) long awaited Belizean Traveller Campaign, which encourages Belizeans to be tourists in our country, was officially launched this morning at the Radisson Fort George Hotel in Belize City.
The campaign is a joint venture between the BTB and the Belize Hotel Association (BHA). Its specific objectives include:
Create awareness of Belize as a destination to its residents and citizens
Boost domestic tourism  and allow Belizeans to enjoy attractive discounts being offered by the industry in collaboration with BHA.
Highlight what Belize has to offer as a perfect vacation paradise educating all on the activities and amenities of our hotels and resorts
Allow the traveller to enjoy the scenery, their vacation and breathtaking memories.
Promote our unique Belizean Culture, traditions and folklore.
Offer Belizeans an opportunity for relaxation – invest in their family – take a well-deserved summer break.
Adventure – tap into your adventurous side.
This year the campaign is focusing on Belize's tourism product and attractions under three main themes:  Friends, Family and Couples.
During the launching, Mrs Jocelle Stephen, Manager of BTB's Marketing and Industry Relations Unit, said: "When you make plans for fun, adventure or relaxation all these three themes are inextricably interrelated. They are so coherent that only so can you indeed experience the true meaning of enjoyment."
She added: "Our Jewel is a desired place to visit and is undoubtedly an attraction. Belize is our backyard; as citizens and residents we are privileged to live where thousands vacation. Therefore, the value of both international and domestic tourism cannot be underestimated. Domestic tourism is crucial to stabilize the seasonal flows of tourism; it is important to get heads in bed all year round and to facilitate our very own Belizeans experiencing the beauty of our Jewel. We recognize the need to channel attention, to invest time, energy, effort and resources to encourage you to Be a Belizean Traveller."
The campaign will run from August to the end of October. The highlight will be a video competition on the subject WHAT WOULD BE YOUR IDEAL VACATION AS A BELIZEAN TRAVELLER. The first five videos that meet the criteria will be uploaded on the BTB's social media page. The video with the most reactions and shares shall be the winner of a grand vacation prize worth $4,000. It will also include the participation of local influencer, Marlyn Vansen, who hits the Belizean Traveller campaign road trail and will be posting updates on her travels on her facebook and instragram pages. This year the BTB has enhanced its marketing material through three videos highlighting the three main themes. Please visit the following links  to see the videos.
The Belize Hotel Association (BHA) has jumped into the band wagon to offer numerous discounts through its members during the campaign. A new microsite page on the special promotions being offered to Belizeans by the BHA members was also created.
During the launching ceremony, Ms Ilechia Flowers, BHA's Marketing Director,  said  "Today marks the second year collaborating with the BTB on the Belizean Traveller Campaign.  The BHA,whose mission is to promote sustainable tourism in Belize, places great effort into marketing our members, locally and internationally.  We represent over 100 members who are excited to participate in this campaign.  Our members have offered amazing discounts not only on accommodations but also on signature tours allowing Belizeans to explore the beauty of this beloved Jewel of ours."
At the ceremony, Ignacio Mahung and Jaime Rodriguez, winners of vacation packages from last year's campaign, presented their personal experience being Belizean Travellers. Both said it was a lifetime vacation with their families.
To keep updated on the progress of the campaign and how to enter the video competition Belizeans can tune into interactive live TV and radio shows countrywide and through the BTB's BelizeanTraveller Facebook Page www.facebook.com/belizeantraveller/
Throughout the month's campaign, BTB hopes to create increased awareness of Belize's regions and products to its residents and citizens, highlighting the scenery and rich culture of a world class authentic destination – BELIZE, a Curious Place!