COVID-19 Update for Travellers

In an effort to keep all travellers to Belize informed, we are providing the most up-to-date information regarding COVID-19 below. We do invite you to consider postponing, rather than cancelling your vacation, and visiting our beautiful jewel in the near future when these restrictions are reduced.
Kindly take note of our Frequently Asked Questions and all official updates from our Ministry of Health below to keep updated.
FAQs Regarding Travelling to Belize
Updated September 3, 2o20
What categories of travellers will be permitted entry to Belize when travel resumes ?
kindly find the traveller classification matrix here
Where can I find the Belize Health App?
The Belize Health App is required to enter Belize and will be available for download on Google Play and in the App Store.  You can download the App at any time prior to your trip to Belize, but should enter your personal information within 72 hours of your arrival in Belize.   
I do not have a smartphone/not travelling with a phone – how will I be able to register for the Belize Health App? 
If you don't have a smart phone you can also download the Belize Health App to a tablet.  You should enter your personal information within 72 hours of boarding your flight to Belize, and must have the device with you when you arrive in Belize.  
Where can I find a list of all the countries approved for entry to Belize?
The Government of Belize (GOB) does not currently have any travel bans in place.  We encourage you to visit www.travelbelize.org regularly for updates on Covid-19, as the situation remains fluid.
What specific measures are being taken in Belize to protect visitors from contracting the virus?
Belize is reopening its tourism industry using a phased approach.   This will allow for the industry to re-open responsibly, to test new entry protocols, and to allow for adjustments as necessary, to ensure the wellbeing of Belizeans and visitors. As we reopen for international visitation, our primary concern is to assure both travellers and residents that Belize's tourism product is cleaner and safer than ever before.
A series of new enhanced health and safety protocols have been put in place to protect visitors, Belizeans, and our communities.  These include:
Mandatory use of facemasks in public spaces
Enforcement of social distancing measures in public spaces such as restaurants, bars, grocery stores, retail stores, etc.
Introduction of a "Tourism Gold Standard" Recognition Program for hotels, restaurants and tour operators. This 9-point program seeks to enhance the tourism industry's health and safety standards by adapting new behaviours and procedures to ensure both employees and travellers are confident in the cleanliness and safety of Belize's tourism product. Some of these new standards include:
Enhanced health and safety protocols for:
Hotels
Online check-in/out, contactless payment systems, and automated ordering/booking systems
Hand sanitizing stations across the property
Enhanced room cleaning and increase sanitization of public spaces and high touch surfaces
Daily health checks for guests and employees
Designated 'Isolation/Quarantine rooms' for suspected Covid-19 cases and action plans for handling suspected employees or guests.
 Tours, Archaeological Sites & National Parks
New capacity restrictions for all tourism sites to ensure social distancing can be maintained
Smaller tour groups to provide a more intimate tour experience
Sites and Parks to manage tours by appointment to limit the number of persons on site
Enhanced sanitization of tour equipment
Will all hotels reopen when travel resumes?
No.  Hotels and resorts have varying times for when they plan to resume operations.  During this initial phase of reopening, a 'Safe Corridor' concept will be adhered to.  The Safe Corridor provide for only approved hotels and tour operators who have been trained to operate in this new environment to host international travellers.  It will also limit interactions between guests and the local community thereby reducing the possible spread of the virus. 
The first grouping of hotels that will be approved for reopening are:
those which have achieved Tourism Gold Standard Recognition, and
provide full service to guests, including having transportation to offer pick-up/drop-off services from the airport; access to a restaurant/bar on property or the ability to offer catering services &/or grocery services (for condo-type properties); have a pool or access to beach front; and be able to provide isolated tours, limited to guests of the property only.
A list of the approved Gold Standard hotels can be found on  www.travelbelize.org.
If I am unable to take a PCR test prior to traveling to Belize, will I be required to test upon arrival? If so, what is the cost of the test?
Yes.  If you are unable to take a Covid-19 PCR test before traveling to Belize, you will be required to take a Covid test upon arrival.  The cost of the test is US$50.00, and it will take about 15-30 minutes to receive your results. However, depending on your health screening, you may be randomly selected for secondary testing even if you bring along a PCR test.
If I test positive at the airport, will I be able to get a flight back out of Belize without having to be placed in quarantine?
No.  All arriving passengers who test positive at the international airport will be placed in mandatory quarantine for a minimum of 14 days at the passengers' expense.  To be cleared from quarantine you must have two negative tests at the end of this period.  It is therefore recommended that you explore the possibility of acquiring travel insurance prior to your trip to Belize.
Will children (under 16 years old) be required to present a negative PCR test or be tested upon arrival as well?
Yes.
We have a large group traveling to Belize. Will we be able to utilize charter services to transport the group to our hotel?
We recommend that you speak with your hotel to arrange transportation from the airport either with the hotel or an approved Gold Standard tour operator, as only approved transportation providers will be allowed to enter the airport.
What protocols are in place for Belizeans (this category includes Diplomats, Permanent Residents, valid work permits and Belizean Diaspora) wishing to return when the airport reopens.
When the airport reopens, all returning Belizeans, will be required to:
Apply through the existing controlled repatriation process at: https://www.repatriation.covid19.bz/Forms/Landing
download the Belize Health App and complete all required information
upon arrival you will be required to take Covid test at the airport. The cost of the test is US$50.00.  PCR tests done abroad are not being accepted for Belizean travellers at this time.
undergo a one (1) day mandatory quarantine at an approved hotel in Belize City while you await your test results
If your test is negative, you will be able to proceed to your home, but must continue thirteen (13) more days of self-quarantine with the use of geo-fencing.
At the end of this period, you will be required to take another test; once your results are negative, health officials will clear you to move freely within the community.
If you test positive upon arrival, you will be placed in mandatory quarantine for a minimum of 14 days at your expense.
Can I rent a car at the airport when the country reopens?
No. During phase 3 of reopening of the industry for international leisure travel, rental car companies will not be permitted to rent vehicles to international visitors.  Only approved transportation providers and Gold Standard tour operators will be providing transportation services.
How do I get from the airport to my hotel; are there certified transportation providers?
Yes.  Your hotel may offer airport pick-up services depending on their location.  Only approved transportation providers will be operating when the country reopens.  We recommend that you liaise with your hotel to learn more about how you will arrive at your hotel. 
Upon arrival in Belize, what will the Immigration and Customs process entail?
Enhanced health and safety measures have been adapted to protect both officers and arriving passengers.  Some of these measures include protective barriers to reduce contact between the officers and the passengers, kiosks for scanning of passports upon entry, luggage scanners in the Customs Hall, and safety barriers where inspection of luggage is required. 
How long should I anticipate getting through arrivals?
If a negative PCR Covid test is produced upon arrival, you immediately proceed to the 'fast track' arrivals processing.  Time varies depending on the result of your health screening and test results. 
If I am not booked at a Gold Standard Hotel, can I still travel to Belize? If so, will I be required to go into quarantine?
No.  During this initial phase of reopening only Gold Standard hotels approved to reopen in the Tourism Safe Corridor will be permitted to accept international guests. The list of approved accommodations for reopening can be found at https://www.travelbelize.org/health-safety
Am I required to wear a mask; if yes where?
Yes.  By law, all citizens and visitors to Belize must wear a face mask when in public spaces.  
Is there a curfew?
No, not at this time. 
Will I be able to explore Belize on my own, during this phase of reopening?
No.  During this first phase of reopening, visitors will only be able to visit tourism sites on tours with an approved Tourism Gold Standard tour operator.  Tours to sites and parks can be arranged with your Tourism Gold Standard hotel. 
Where do I find out which tourism sites are opened, and book a tour?
We recommend that you speak with your hotel and let them know what you're interested in doing or seeing while you're here and they can assist you in booking these activities.  All visits to tourism sites and national parks must be done with an approved tour operator.
What should I do if I start to exhibit symptoms during my vacation? 
If you start to exhibit any Covid-19 symptoms, immediately notify your hotel's front desk, and they will implement their Covid Response Plan.  Should you develop symptoms, and test positive for the virus while in country, you will be required to quarantine for a minimum of 14-days at your expense.  It is highly recommended that you obtain travel insurance prior to departure in the event that you become sick while on vacation. 
If someone at the resort where I'm staying tests positive for COVID-19, would everyone be quarantined for 14 days?
This is dependent on the Ministry of Health's contact tracing exercise.   The hotel will utilize its communication plan to advise of any necessary steps to be taken. 
Will spa services be allowed?
Yes. However, both providers and customers are advised to refrain from high contact treatments which involve the face, nose, and mouth such as facials, lip scrubs, etc.  Approved Gold Standard accommodations will have safety protocols for this service.
Will visitors be allowed to go out to shop while in Belize?
Guests will be allowed to shop on property, and while on approved tours at site gift shops.  Approved accommodations are also encouraged to arrange visits from local artisans so that you can access other souvenir options. 
If I'm staying at a hotel, must I stay there the entire time or can I visit with my Belizean friends? 
During phase 3 of reopening of leisure travel to Belize, tourists must stay on the hotel property.  You will only be allowed off of the hotel compound if you are accompanied by an approved tour operator for an approved tour.  Some hotels may choose to host locals and international guests; should your hotel choose to do this your friend would be able to visit you on the property, while practicing social distancing.
How long will these protocols (testing, social distancing, restricted movement, etc.) be in place? 
The Government of Belize and officials of the Ministry of Health continue to monitor this very fluid situation.  At this time, we are unable to indicate how long these protocols will be in effect.   The protocols have been implemented to protect the health and safety of both Belizeans and visitors to our country, and adjustments will be made as new information is received. 
If we are delayed, can we book a room in Belize City, before departing for our final destination in-country?
Yes.  You can book a room in Belize City for your layover but it must be with an approved Gold Standard Hotel and arrangements must be made with an approved transportation provider or Gold Standard tour operator to transfer you from the international airport to the hotel in the City, as well as for onward transfer to your final destination. 
If we are visiting Belize for an extended stay (12 months) will we still be required to download the Belize Health App?  
Yes.  All visitors (non-residents) to Belize will be required to download the Belize Health App despite the length of your intended stay.
Is a digital copy of my negative PCR Covid-19 test acceptable?
An official email or other correspondence from the facility where your PCR test was taken indicating your result will suffice as proof of your negative test.
If I own a condo at a resort that is approved for reopening in Phase 3, will I be subjected to the same protocols as a tourist, i.e. remain on property, no friends visiting, etc.?
No. You will not be required to adhere to the protocols placed on tourists. Reference matrix for long stay non-nationals.
If several people on the same flight tests positive, what happens to the other passengers who were also on that flight?
Should several passengers test positive from the same flight, the Ministry of Health will activate its contact tracing exercises.  This is why downloading the Belize Health App is a mandatory entry requirement for the country.
Can I visit multiple Gold Standard Resorts during my visit to Belize?
Yes. You can spend time at several different approved Gold Standard resorts during your time in Belize once the transfer to each resort is arranged by the property and carried out by a Gold Standard approved tour operator or transport provider.
If a passenger arrives with a negative test but exhibits some mild symptoms like a cough or sneezing, will they be permitted through, retested at the airport or sent to quarantine?
All passengers arriving at the international airport will undergo a health screening.  If a passenger arrives with a negative Covid PCR test but exhibits symptoms of the virus, health officials will do a secondary health screening (which may require testing at the passengers' expense) prior to clearance for Immigration & Customs processing.
Will passengers also be tested when they depart the country?
No. Passengers are only tested upon arrival to Belize.
What accommodations are available for passengers waiting to be tested?
The Ministry of Health has established a testing area at the international airport just outside of Terminal 2.  The clinic can accommodate 8 passengers at a time for testing, and is air conditioned with restroom facilities.
Where can get I get a Covid PCR test?
You will need to contact your local health authorities to find the nearest Covid testing facility as well as to determine the approximate timeframe for receiving results.
Traveller Classifications and Entry Requirements for Belize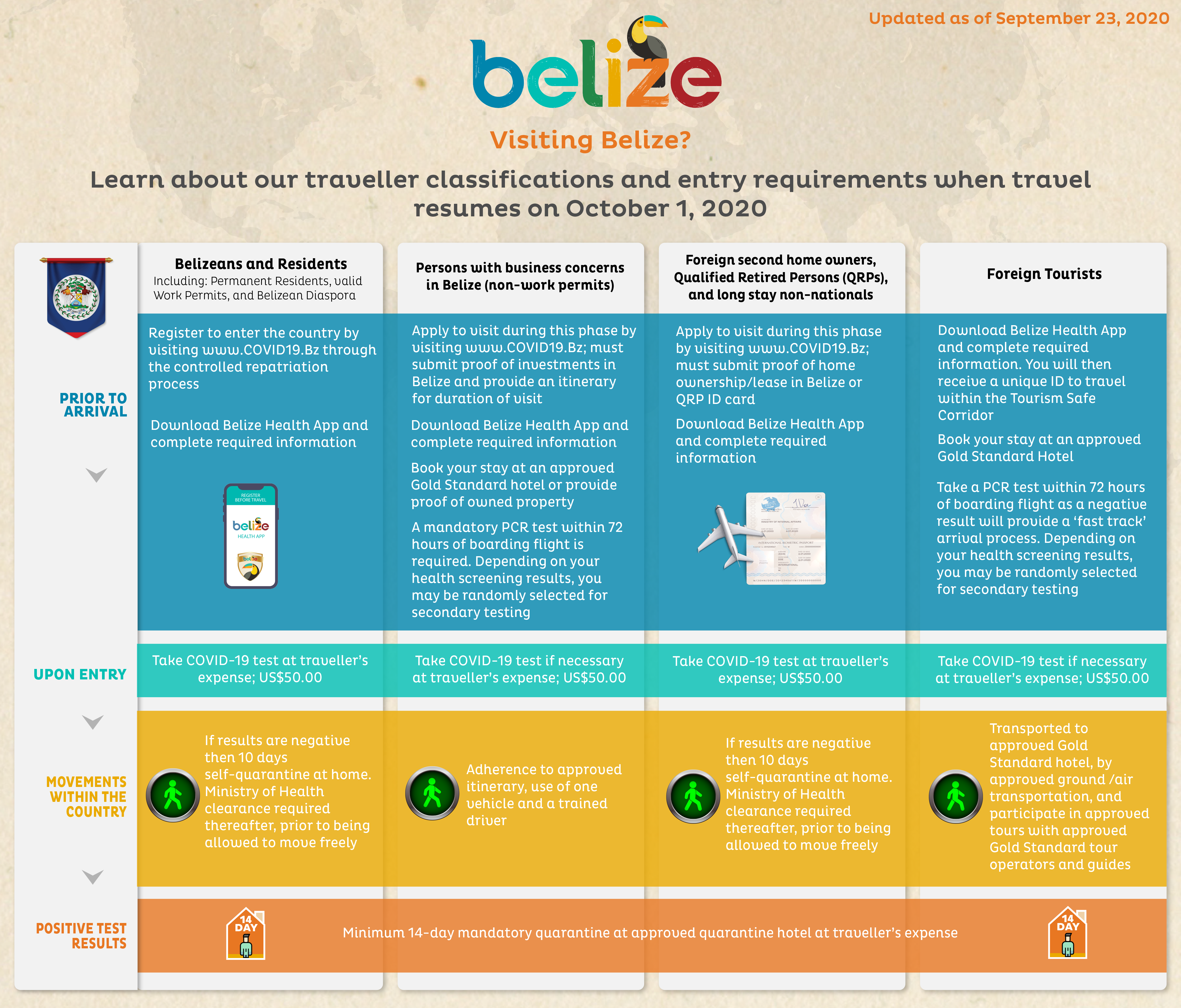 Traveller Information when traveling in the Belize's safe corridor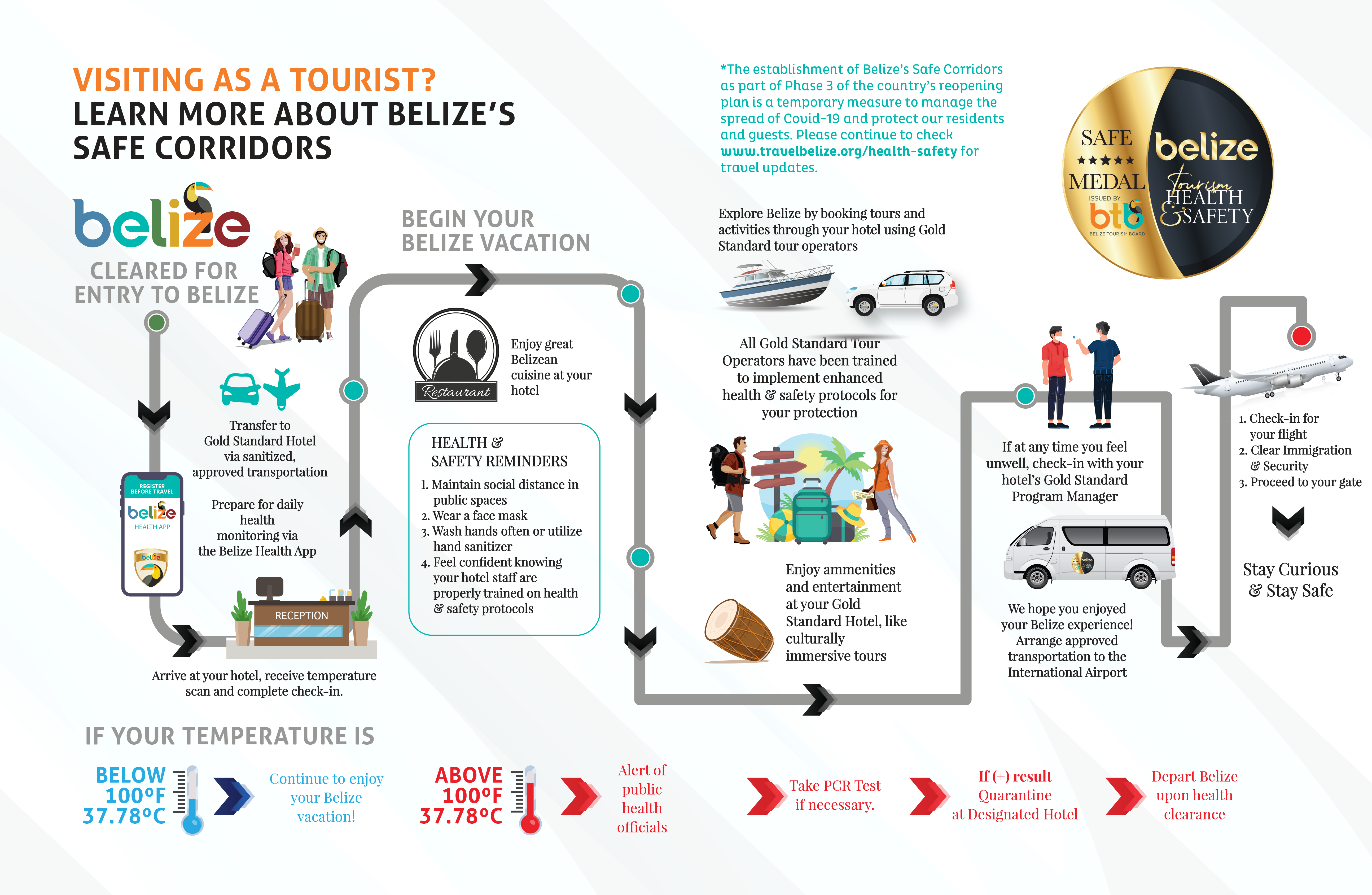 Belize Travel Reopening Plan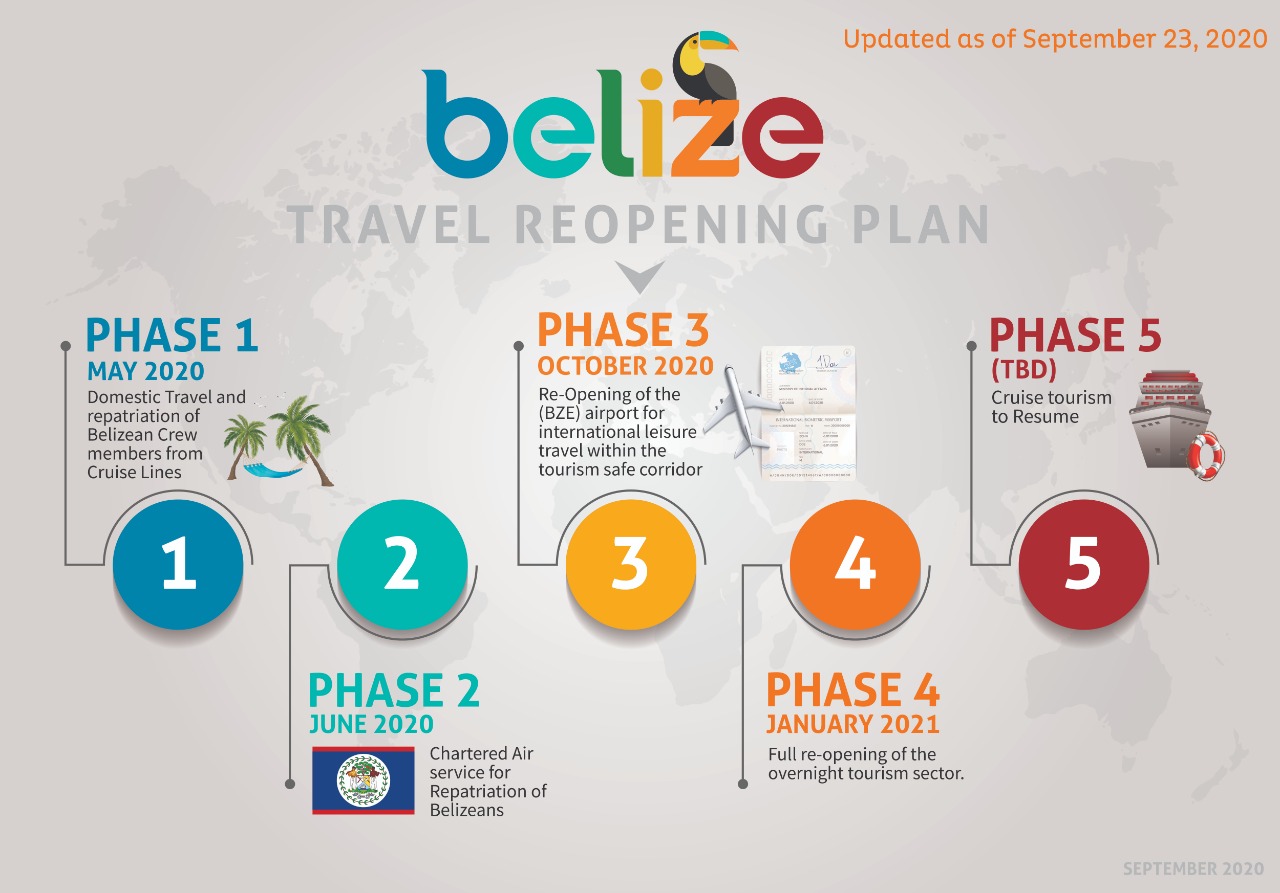 Enhanced Hotel & Restaurant Guidelines