February 15, 2018
Posted by:

Perry Bodden

Category:

Community, News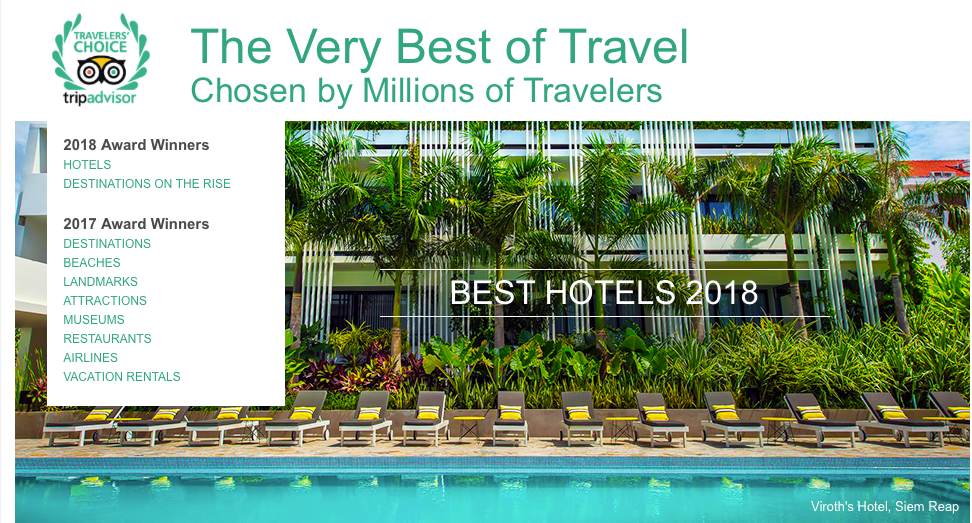 TRIPADVISOR NAMES THE TOP HOTELS IN BELIZE FOR 2018
 Belize City, Wednesday 14th February, 2018: TripAdvisor, the world renowned travel planning booking site, has named the top hotels in Belize for 2018 and the Belize Tourism Board (BTB) joins industry stakeholders in congratulating these Belizean accommodations for a well-deserved recognition.
TripAdvisor Travelers' Choice award winners were determined based on the millions of reviews and opinions collected in a single year from TripAdvisor travelers worldwide. In the 16th year of the awards, TripAdvisor has recognized 8,095 properties in 94 countries and eight regions worldwide. The hallmarks of Travelers' Choice hotels winners are remarkable service, value and quality.
This year TripAdvisor recognized Belizean accommodations in the following categories: TOP 10 SMALL HOTELS, TOP 10 HOTELS FOR ROMANCE, TOP 10 HOTELS FOR BEST SERVICE, TOP 10 B &Bs AND INNS and TOP 10 BARGAIN HOTELS.
The 2018 TripAdvisor's Awards List for Belizean Hotels are as follows along with their respective rankings:
TOP 10 SMALL HOTELS – BELIZE
Coco Plum Island Resort – Belize Cayes
The Phoenix Resort – San Pedro, Ambergris Caye
Hamanasi Adventure & Dive Resort – Hopkins Village
Xanadu Island Resort – San Pedro, Ambergris Caye
Chabil Mar – Placencia
Turneffe Island Resort – Turneffe Island Belize
Belizean Dreams Resort – Hopkins
Sleeping Giant Lodge – Belmopan
Gaia Riverlodge – Mountain Pine Ridge
Pelican Reef Villas Resort – San Pedro, Ambergris Caye
TOP 10 HOTELS FOR ROMANCE – BELIZE
Coco Plum Island Resort – Belize Cayes
Sleeping Giant Lodge – Belmopan
Hamanasi Adventure & Dive Belize – Hopkins Village
Caribbean Beach Cabanas of Placencia – Placencia
Belizean Dreams Resort – Hopkins
Colinda Cabanas – Caye Caulker
Black Rock – San Ignacio
Matachica Resort – San Pedro, Ambergris Caye
Ka'ana Resort – San Ignacio
Victoria House Resort & Spa – San Pedro, Ambergris Caye
TOP 10 HOTELS FOR BEST SERVICE – BELIZE
Coco Plum Island Resort – Belize Cayes
Hamanasi Adventure & Dive Resort – Hopkins
The Phoenix Resort – San Pedro, Ambergris Caye
Pelican Reef Villas Resort – San Pedro, Ambergris Caye
Xanadu Island Resort – San Pedro, Ambergris Caye
Athens Gate Beach Resort – San Pedro, Ambergris Caye
Belizean Dreams Resort – Hopkins
Sleeping Giant Lodge – Belmopan
Chabil Mar – Placencia
El Pescador Resort – San Pedro, Ambergris Caye
TOP 10 B &Bs AND INNS – BELIZE
Vanilla Hills Lodge – San Ignacio
The Inn at Twin Palms – Belmopan
Amanda's Place – Caye Caulker
Sea Dreams Hotel – Caye Caulker
A Belizean Nirvana – Placencia
Mariposa Beach Suites – Placencia
Weezie's Ocean Front Hotel and Garden Cottages – Caye Caulker
Macaw Bank Jungle Lodge – Cristo Rey, Belize
Bocawina Rainforest Resort & Adventures – Hopkins
Villa Boscardi – Belize City
TOP 10 BARGAIN HOTELS – BELIZE
Tobacco Caye Paradise – Tobacco Caye
Colinda Cabanas – Caye Caulker
Seven Seas Resort – San Pedro, Ambergris Caye
Chaleanor Hotel – Dangriga
Captain Jak's Cabanas – Placencia
Rumor's Resort – San Ignacio
Hotel de la Fuente – Orange Walk
Banana Beach Resort – San Pedro, Ambergris Caye
Jungle Jeanie's by the Sea – Hopkins
Barefoot Beach Belize – Caye Caulker
The BTB is delighted to congratulate all the awardees and reiterates its commitment to work very closely with stakeholders as strategic partners in marketing Belize as a Curious Destination. For further information on the TripAdvisor's TOP HOTELS IN BELIZE FOR 2018  please visit https://www.tripadvisor.com/TravelersChoice-Hotels-cSmall-g291959