July 12, 2018
Posted by:

Perry Bodden

Category:

Community, News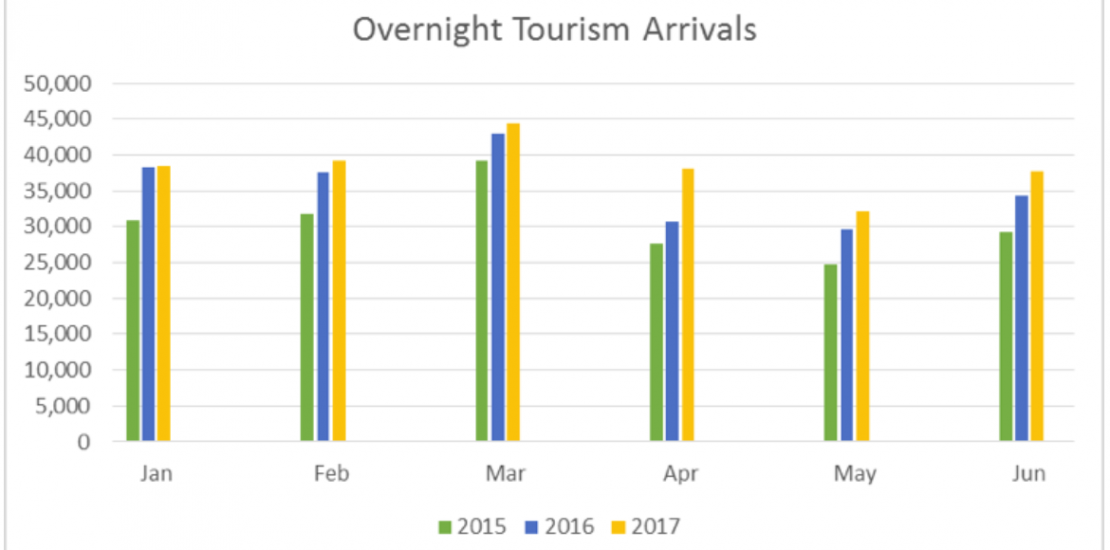 Tourism arrivals to Belize continue on upward trend
Belize City, Wednesday, 11th July 2018: The latest statistics for the middle of 2018 shows that tourism arrivals to Belize continue to register groundbreaking levels and moving on a steady upward trend. Overnight tourism arrivals in June registered double digit increases for the past three consecutive years while the first half of the year registered a 17.1% cumulative increase.
During the month of June, cruise ship arrivals registered a 57.2% increase while at the end of the first half of this year, there was also an overall increase of 10.2% in cruise visitors to Belize as compared to the first half of 2017.
The following is a breakdown of the most recent statistics, indicating that Belize continues to maintain double digit growth in overnight arrivals.
OVERNIGHT ARRIVALS REGISTERED 17% INCREASE OVER FIRST HALF OF THE YEAR
Overnight tourist arrivals increased by 15% in June 2018. Overnight arrivals in June have increased by at least 10% in each of the past three years. Arrivals in June and July have closely approached the high season numbers of January and February, particularly over the past six years. There is a 17% cumulative increase in overnight arrivals over the first half of the year.
CRUISE SHIP ARRIVALS FOR FIRST HALF OF 2018 EXPERIENCED 10.2% INCREASE
In June 2018, there were 20 cruise ship calls which amounted to over 73,000 cruise passengers arriving in Belize.  This represented a sizeable increase of 57.2% or over 26,000 more cruise visitors when compared to June 2017. At the end of the first half of the year, there has been an overall increase of 10.2% in cruise visitors as compared to the first half of 2017. Arrivals for 2018 includes visitors from both Belize City and Harvest Caye Seaports.
Another exceptional increase in tourism arrivals is a reaffirmation of significant gains for our country that continues to be a growing, viable and a must-visit destination in Central America and the Caribbean. It is also illustrative of the extremely successful efforts of the Belize Tourism Board and our valued stakeholders to market Belize as a Curious Place and as a premier tourism destination.