June 25, 2018
Posted by:

Perry Bodden

Category:

Community, News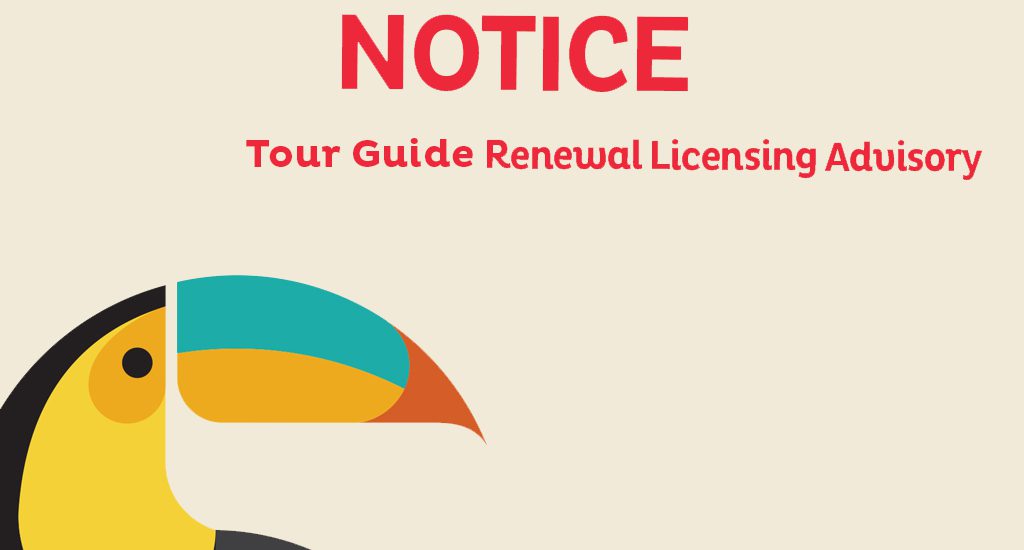 Tour Guide Licensing Advisory
Please be advised that all Tour Guide Licenses expire on July 31, 2018.  Applications for renewal are now being accepted at BTB's Belize City and San Pedro Offices.  
Tour Guides are asked to apply early in order to have a new and valid license, before the current license expires.
Requirements for Renewing Tour Guide Applicants  
1.Completed Application Form. (No incomplete application form will be accepted) 
2.Original Police Record (dated within 6 months from date of submission and signed by Applicant)
3.Original Medical Certificate from a registered Medical Practitioner (dated within 6 months from date of submission)
4.Valid copy of CPR/First-aid certificate/card from a recognized provider (BERT, RED CROSS, PADI) certified by a Justice of the Peace
5.A original letter of recommendation from a recognized local Tour Guide Association (letter must be issued and dated within 3 months of submission of application)
6.*Copy of valid Dive Master or Dive Instructor Card from recognized dive institutions (PADI, NAUI, SSI, TDI etc.) (if the applicant has such certification)
7.Payment of $75.00 License Fee at the point of license pick-up (Note that a receipt of payment of the license fee is NOT a license or proof of a license).
Please note the following:  
To avoid being unlicensed for any period of time please come in to our offices well in advance of the expiration date.
To avoid delays, please ensure to include ALL supporting documentations 
Any Guide who fails to complete the entire renewal process before July 31, 2018 and continues to operate is deemed to be operating illegally.As per the Belize Tourism Board (Tour Guide) Regulations, it is an offence to operate without a valid license and a person found guilty of said offence is liable on summary conviction to a fine not exceeding five hundred dollars or to imprisonment for a term not exceeding one year, or to both such fine and term of imprisonment.