Southwest Inaugurates first Denver to Belize flight
March 14, 2017
Posted by:

Perry Bodden

Category:

International, News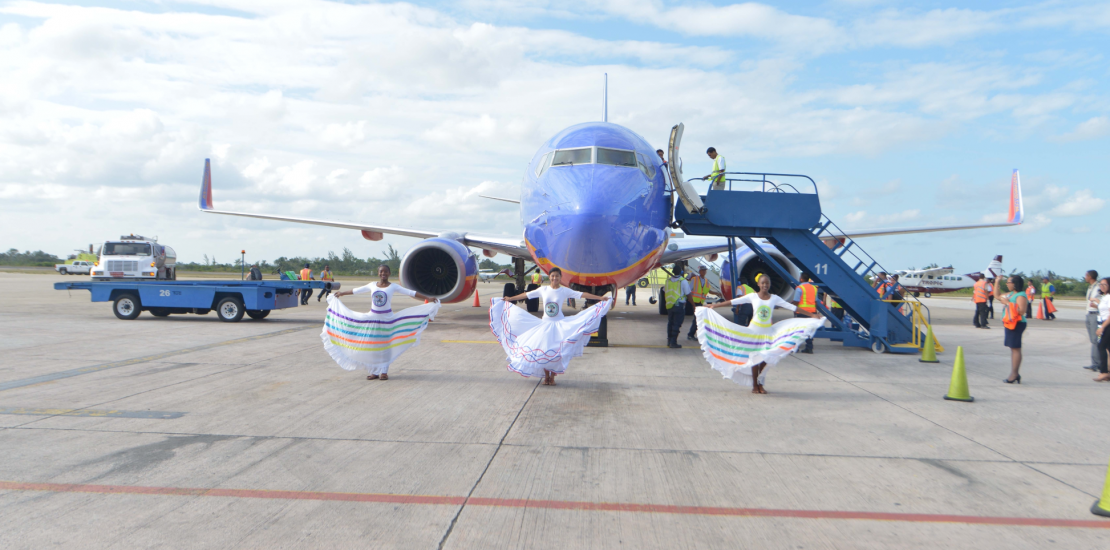 Southwest Inaugurates first Denver to Belize flight
Belize City March 13th, 2017- On Saturday, March 11th, 2017 Southwest Airlines and Belize launched its inaugural flight from Denver, Colorado direct to Belize connection.
With two ceremonies held on that day to commemorate this event, the first was held in Denver, Colorado to mark the first flight departing to Belize. Those in attendance representing Belize included Hon. Manuel Heredia, Minister of Tourism and Civil Aviation and Mr. Anthony Hunt, member of the Aviation Development Committee.
Hon. Manuel Heredia Jr., Minister of Tourism and Civil Aviation stated: "It is always a pleasure to welcome a new route to Belize and today's inaugural flight from Denver, Colorado is no exception. Southwest Airlines continues to show its commitment to Belize by creating additional routes to Belize making us more accessible to US travelers. We are grateful to Southwest who believes in our destination and we hope that they will continue be a great partner for years to come."
"Saturday marked an exciting day for Southwest and our growing operation at Denver International Airport," said Jason Van Eaton, Vice President Governmental Affairs at Southwest Airlines. "We are pleased not only to offer our Customers the only nonstop service between Denver International and Belize City, Belize, but also grow our international footprint while connecting our Customers with more destinations that are important to them."
Belize welcomed 143 passengers on the first flight from Denver. Inbound and outbound passengers were given souvenirs to commemorate this momentous occasion. A short ceremony was held at the Philip S.W. Goldson International Airport for its 1st departing flight from Belize to Denver. The audience heard from The Director of Marketing from the Belize Tourism Board-Ms. Karen Pike, Chief Tourism Officer from the Ministry of Tourism & Civil Aviation-Mr. Abil Castaneda, Southwest Airlines Belize Station Manager- Mrs. Linda Neal, and Ms. Adrienne M. Galanek, Chargé ď Affaires from the Embassy of the U.S.A.
Mr. Abil Castaneda stated, "With our partners at Southwest today we highlight yet another significant and historic milestone. As we speak, the first direct flight from Denver to Belize is on its way, and in a few minutes the first reciprocal flight Belize to Denver will be departing our shores. Today solidifies what we can only describe as a mutual and viable alliance between our brands. It is indeed a great honor and a proud moment for us, as we endeavor together to make our Jewel even more accessible to our visitors from the southwest and the wider North American market, and of course providing an added connection and convenience to our traveling Belizean public ."
All other invited speakers highlighted their excitement at the growth and progress of the tourism industry and its ultimate positive contribution to the economy of Belize.
There were a total of 120 passengers that departed from Belize to Denver. This new flight will operate on Saturdays, between the periods March 11th 2017 to April 24th 2017. The flight will then operate on Saturdays and Sundays from June 4th through August 14th. This launch now marks the 2nd Southwest connection to Belize, Houston and Denver. Both Texas and Colorado are top destinations in the US for arrivals to Belize, thereby highlighting the importance of this new flight for our tourism Industry.
For more information visit www.southwest.com.