November 7, 2018
Posted by:

Perry Bodden

Category:

Community, News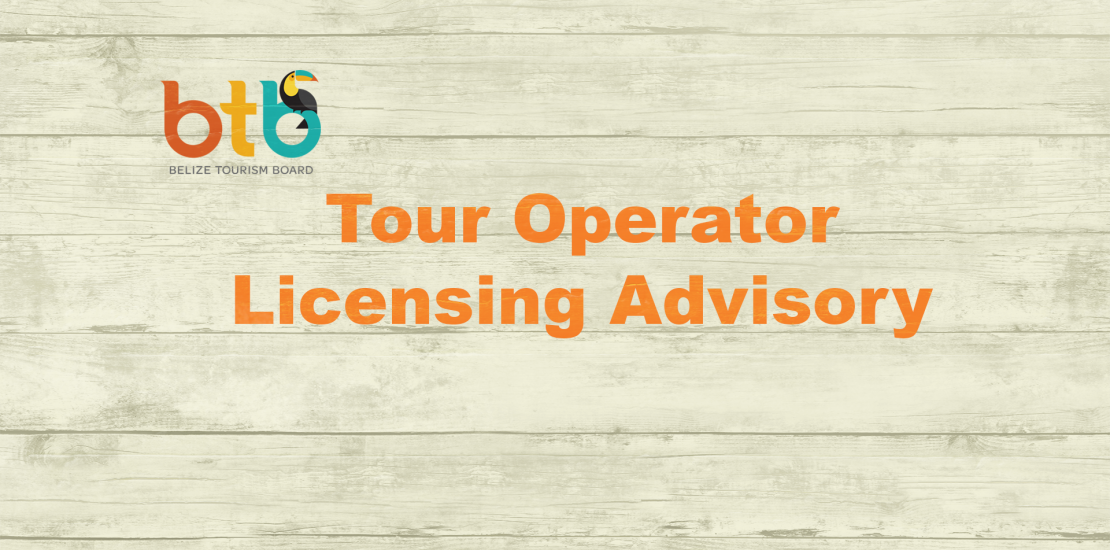 Renewing Tour Operator Licensing Advisory 
Please be advised that all Tour Operator Licenses expire on December 31, 2018.  Applications for renewal are now being accepted at BTB's Belize City and San Pedro Offices.  
Requirements for ALL Renewing Tour Operator Applicants 
Completed Application Form (signed and dated) (incomplete Applications will not be accepted)
Proof of citizenship or Permanent Residency. (It is required that an entity applying for a Tour Operator License MUST be majority owned or controlled by Belizeans or permanent residents of Belize).
Original Police Record of all owners or shareholders (dated within 6 months from date of submission and signed by Applicant)

 

Copy of Business Name Registration (Applicable to business names)
Partnership agreement evidencing distribution of shares if business has more than one owner (Applicable to Business Names)
Certified copy of Certificate of Good Standing and certified copy of register of shareholders dated within 3 months of submission of application (Applicable to Companies)
Detailed list of employees and licensed tour guides (as per BTB's form)
Detailed list of tour packages inclusive of sites where tours are conducted (as per BTB's form-one form per tour)

 

Checklist of all safety equipment to carry out tours (as per BTB's form)
10. Valid license, registration and Passenger Liability Insurance for each vessel and/or vehicle (If vessel or vehicle is rented, a copy of the rental agreement with owner's biodata passport page must be submitted)
11. Public Liability Insurance/Tour Operator Insurance
12. Detailed Emergency Plan 
13. Tour Operator Trade License (if business is registered in town or city)
14. Two (2) clear photographs of the business (the interior and the exterior)
15. License Fee of $250.00 upon approval of application 
To avoid delays, please ensure to:
Fill in all information
Date and sign the application
Date and sign each form/template
Include all supporting documentations

 
Any Operator who fails to complete the entire renewal process by December 31, 2018 and continues to operate is deemed to be operating illegally. As per Section 9(2) Tour Operator Regulations S.I. No. 12 of 2006, the Belize Tourism Board (Tour Operator) Regulations, it is an offence to operate without a valid license and a person found guilty of said offence is liable on summary conviction to a fine not exceeding five thousand dollars or to imprisonment for a term not exceeding six months, or to both such fine and term of imprisonment.  
Application forms can be downloaded from http://www.belizetourismboard.org/tourism-resources/tourism-forms/ or picked up at the BTB Offices at either 64 Regent Street, Belize City, or the San Pedro Office. Please feel free to contact our licensing officers at 227-2420 or licensi[email protected] if you have any questions or concerns.