Norwegian Getaway Makes First Call to Belize
May 3, 2016
Posted by:

Perry Bodden

Category:

Cruise, International, News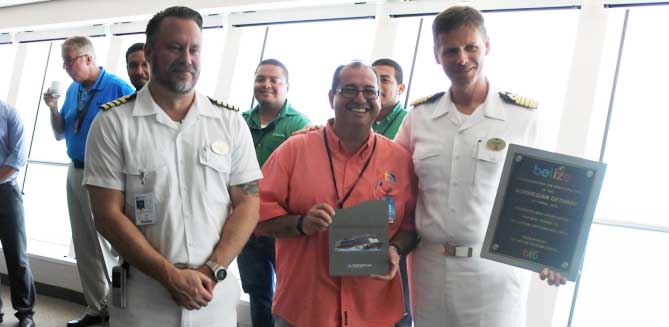 Norwegian Getaway Makes First Call to Belize
Belize City, Belize – April 28, 2016 – Yesterday, April 27, Belize welcomed the Norwegian Getaway in its first call to Belize. The ship arrived with 4,360 passengers as it arrived in port at double occupancy. The customary plaque exchange ceremony took place on-board the ship between the Belize Tourism Board (BTB) and Captain Rune Myre of the Norwegian Getaway.
Miami's Ultimate ship, the Norwegian Getaway combines the most magnificent amenities Norwegian has to offer with The Waterfront, an innovative, industry-first open-air promenade designed to connect guests with the ocean like no other cruise line. It hosts twenty eight (28) dining options, five water slides, and three levels of action-packed activities in the sports complex. The excitement and entertainment continues with Illusionarium, a surreal magical experience and Broadway musical Million Dollar Quartet.
The Getaway was built in 2014 with an overall length of 1068.3 ft. and hosts 1,640 crew on board.  The Getaway has been voted as the Porthole Magazine's Best Megaship.  The ship set sail on a 7-days Western Caribbean cruise from Miami and is expected to make 22 more calls to Belize between May to December 2016.
About the Belize Tourism Board
The Belize Tourism Board (BTB) is a statutory body within the Belize Ministry of Tourism and Civil Aviation, and it is governed by a Board of Directors appointed by the Minister of Tourism and Civil Aviation.  The BTB works in conjunction with members of the private sector – including the Belize Hotel Association, Belize Tourism Industry Association and Belize National Tour Operators Association – and is dedicated to building tourism in the most economically and environmentally sustainable manner.  As a part of its responsibilities, the BTB promotes Belize as a premier tourism destination to both in-country and international consumers.  Among its outreach to the international travel market, the BTB markets the country's unique attractions to travellers, members of the travel trade industry and media outlets in key markets.
The BTB is also dedicated to developing and implementing tourism programs that will help strengthen and grow the Belizean tourism industry; promote good destination stewardship; and instil high quality standards for accommodations and travel experiences.  For more information on the BTB and its services, visit www.travelbelize.org.
# # #