July 7, 2021
Posted by:

Perry Bodden

Category:

Community, International, News, Policies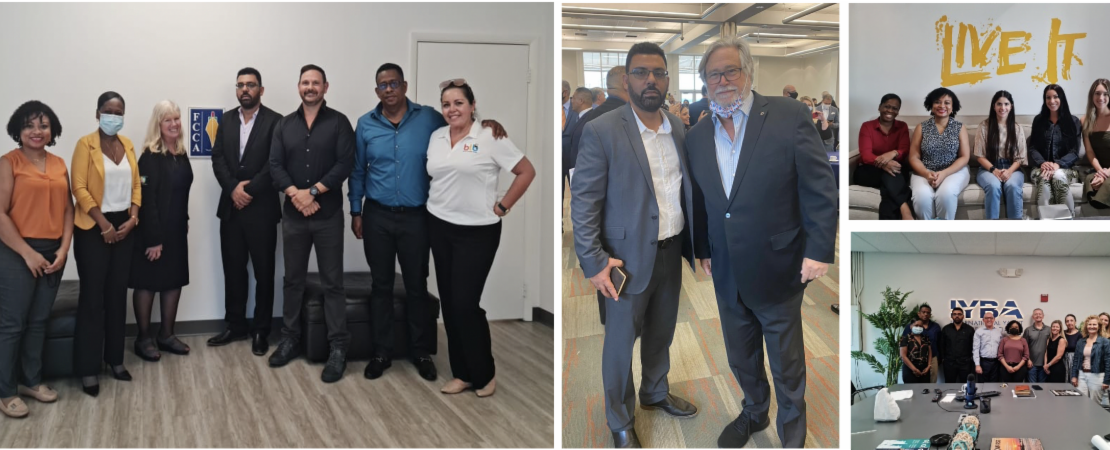 MINISTER OF TOURISM MEETS WITH KEY TOURISM PLAYERS IN MIAMI
Belize City, Belize Monday, June 28, 2021: The Minister of Tourism &  Diaspora Relations, Hon. Anthony Mahler, returned to Belize over the weekend after heading a delegation to Miami, U.S.  from June 20 – 25 for a series of meetings with key players from multiple segments of the tourism industry. The aim of the visit was to explore potential areas of collaboration in the promotion, marketing and rebuilding of our tourism industry.
Members of the delegation that accompanied the Minister included Mr. Evan Tillett, Chairman of the BTB Board of Directors,  Ms. Michelle Bowers, Interim Director of Marketing, Ms. Noriko Gamero, Director of Cruise & Destination Planning, Mrs. Deborah Gilharry Arana, Senior Travel Trade Officer and  H.E. Sandhya Murphy, Ambassador of Diaspora Relations.
The meetings included discussions with executives of prominent cruise companies such as as the Royal Caribbean Group, Norweigan Cruise Lines, Carnival Cruise and Virgin Cruises. Among the important topics discussed with these companies was the reopening of the cruise sector in Belize. In this regard, Minister Mahler, Mr. Evan Tillett and Ms. Noriko Gamero, attended the Florida Caribbean Cruise Association-Port Miami Return to Sail Summit. During this summit, discussions focused on  when and how cruising will return to the Caribbean, Central and South America, and Mexico; the new protocols in cruise destinations, including the impact for tour operators and shore excursion operations; and creating opportunities for destinations to have more of their populations join cruise line families.
Meetings were also held with key developers from Marriott International and IHG Hotels & Resorts; other meetings were also concluded with several tour operators and travel agencies such as Toselli Tours, Tara Tours Inc., Overseas Leisure Group and Expedia, as well as with the International Yacht Brokers Association (IYBA).
Since assuming his current role, Minister Mahler has expressed an unwavering commitment to establish new and lasting relationships with important sectors within the tourism industry, both locally and internationally. The recent visit to Miami was part of this initiative.