October 10, 2019
Posted by:

Perry Bodden

Category:

Community, News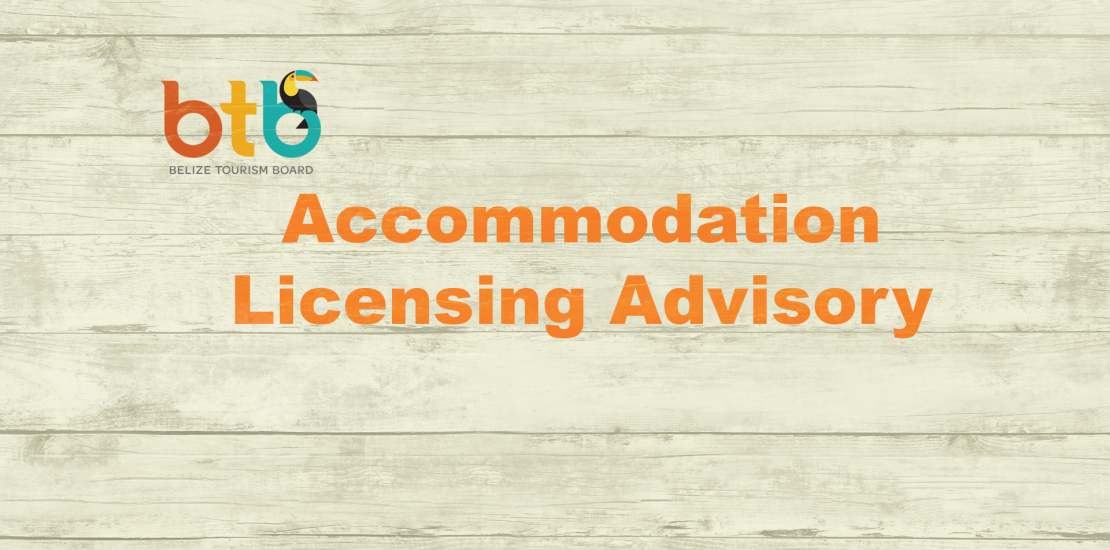 Licensing Advisory – Renewing Accommodations 
The Tourism Accommodations sector is hereby advised that all Accommodation Licenses expire on December 31, 2019.  Applications for renewal are now being accepted at BTB's offices in Belize City and San Pedro.
ALL Renewing Accommodation Properties must submit:
Completed Application Form (signed and dated by owner or authorized manager)
Business Name Certificate*
Land Title Certificate*
Current Certified List of Shareholders and Certificate of Good Standing*
Department of the Environment (DOE) – Environmental Clearance*
Fire Department – No-Objection letter*(valid for 1 yr. from date of clearance letter)
Public Health Certificate
Central Building Authority (CBA)– No-Objection Letter/Occupancy Certificate
(applicable to clearances dated before 2016)*
Letter of Authorization for Manager OR Rental Management Agreement*
Valid Trade License*
Detailed and/or updated Emergency Plan*
BTB's Declaration of Service Charge Scheme*
https://belizetourismboard.org/wp-content/uploads/2017/12/BTB-Hotel-Service-Charge-Scheme-Form-11.17.pdf
Receipt/Deposit slip of Application Fee of $25.00 plus License Fee of $5.00 per room/unit
* mandatory if applicable and/or if a valid copy has not been submitted to the BTB
Accomodations operating beyond December 31, 2019without completing the renewal process will be issued a violation ticket.As per Section 27(1)(j) of the Hotels and Tourist Accommodation Act (HTAA), it is an offence to operate without a valid license and a person found guilty of said offence is liable on summary conviction to a fine and/or to imprisonment.
Application forms can be downloaded fromhttp://www.belizetourismboard.org/tourism-resources/tourism-forms/or contact us at:
Belize City 
64 Regent Street, Belize City
San Pedro
San Cas Building, Unit 5B
Triggerfish Street, San Pedro Town
Tel: +501-227-2420
Email: [email protected]
N.B. Applications will only be accepted if it is completely filled, signed, and dated with ALL supporting documentations attached.