January 26, 2022
Posted by:

Xiomara Sawers

Category:

Business plans, Events, International, News, Uncategorized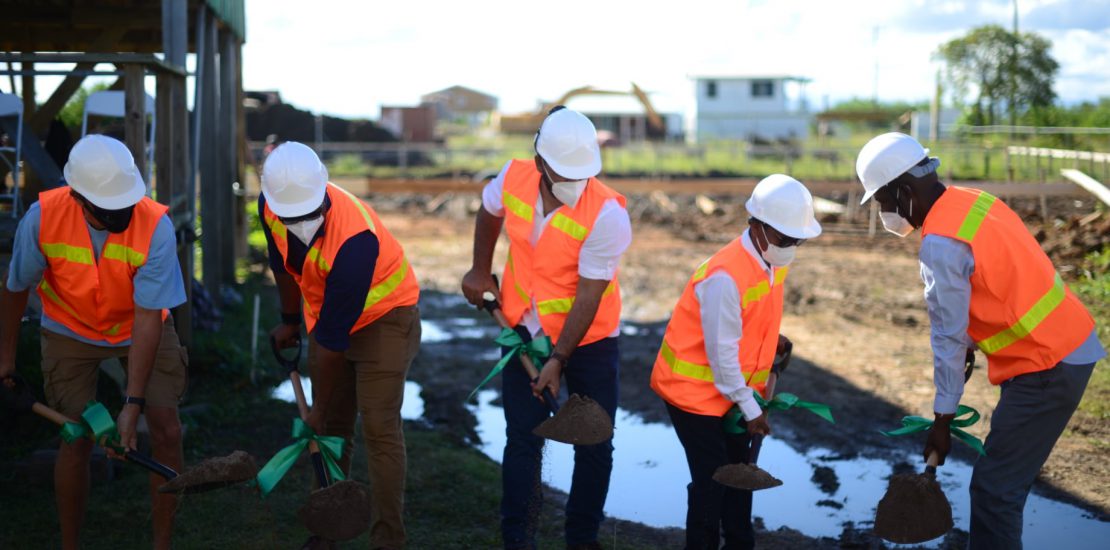 BTB, MOHW  and PVC break ground for the Placencia Village Polyclinic
Belize City, Friday, January 24th, 2022:  The Belize Tourism Board (BTB), in collaboration with the Ministry of Health and Wellness (MOHW) and the Placencia Village Council, broke ground to mark the construction of a state of the art polyclinic for the southern village of Placencia.
"The Placencia Polyclinic will not only provide essential health services to Placencia residents during this critical juncture for the country, but also contribute to the development of Placencia as a healthy, safe and visitor friendly destination."  said Hon. Anthony Mahler, Minister of Tourism & Diaspora Relations during the ground breaking ceremony.
The ceremony also included the participation of Hon. Kevin Bernard, Minister of Health and Wellness, and Hon. Rodwell Ferguson, Minister of Transportation, Youth & Sports and Area Representative of Stann Creek West, as well as representatives of the Placencia Village Council.
The Polyclinic will feature consultation rooms, reception and registration areas, waiting rooms, asthma bay, pharmacy, 2 triage rooms, laboratory, shock/trauma rooms and more, to provide the highest level of quality service to patients.
The Placencia Village Council provided the land for the construction of the facility; the  MOH  will provide the technical requirements, staff and management of the polyclinic; and the BTB developed the terms of reference for the tendering procedure and  will manage the disbursement of funds with guidance from MOHW.
The project is estimated to cost $2.486 million dollars and is being financed by the Tourism Development Funds established for the destination. These funds resulted from mutal agreements and collaboration between the Government of  Belize, Norweigan Cruise Lines (NCL), Protected Areas Conservation Trust (PACT) and Belize Tourism Board, with the aim to develop sustainable management of tourism sites, community, sanitation, health and security infrastructure.
Besides the physical infrastructure, BTB has already secured with local stakeholders and the Heineman-Robicsek Medical Outreach group medical supplies and equipment including an ambulance in the tune of $459,001.44,  representing 59% of needed equipment. The project completion date is scheduled for completion at the end of 2022.
Placencia is one of Belize's leading tourism destinations.  Prior to the emergence of COVID-19, Placencia experienced rapid tourism growth, welcoming 66,738 overnight visitors and 374,894 cruise passengers via Harvest Caye in 2019. These visitor arrivals had a direct impact on the demand for health services, thereby influencing guests' experiencence. The BTB fully supported and launched the initiave to construct a medical facility for both residents and visitors.  This new medical facility is also a means of fortifying the sound development of tourism in the area, particularly with the 'new norm' of increased focus on high standards of health and safety to fight the current pandemic.