September 15, 2023
Posted by:

BTB Admin

Category:

Uncategorized
Belize City, Belize, September 14, 2023 – It is with great enthusiasm that the Belize Tourism Board (BTB) introduces Ms. Nora Williams as its newest Front Line Hero. Hailing from the twin towns of San Ignacio and Santa Elena, Nora Williams' journey has been a vivid tapestry of care, dedication, compassion, warmth, and genuine hospitality.
With four children of her own, she understands the essence of care, which radiates in every aspect of her role. In her current role as House Keeping Supervisor at the San Ignacio Resort Hotel, her impact has stretched far beyond the realm of tidy rooms. A true hotel virtuoso, she has lent her magic touch to banquets, in the kitchen, and extended a heartfelt welcome to guests. Her nurturing spirit doesn't stop at the lobby – she's the guardian angel of the Resort's little guests, embracing the role of a babysitter.
Step into a guest room she has graced, and you're stepping into a world of perfection. Nora's eagle-eyed precision ensures that not a speck of dust dare linger, and every pillow finds its perfect plump. But it's her nature-crafted messages that transform a room into a sanctuary for the Resorts' guests. In her own words, one of the main reasons she enjoys her job is,"I love to see my guests happy." Nora gives each room a touch of her care and a sprinkle of her dedication. "It's not just service; it's a symphony of service orchestrated with the heart," she says.
The BTB thanks her for her care, dedication, and an unwavering commitment to the guest experience and colleagues alike.
As part of her award, Nora received $1,500 in cash, courtesy of the BTB and a two-night stay at the Sunbreeze Suites, Courtesy of the Sunbreeze Hotel in San Pedro, Ambergris Caye.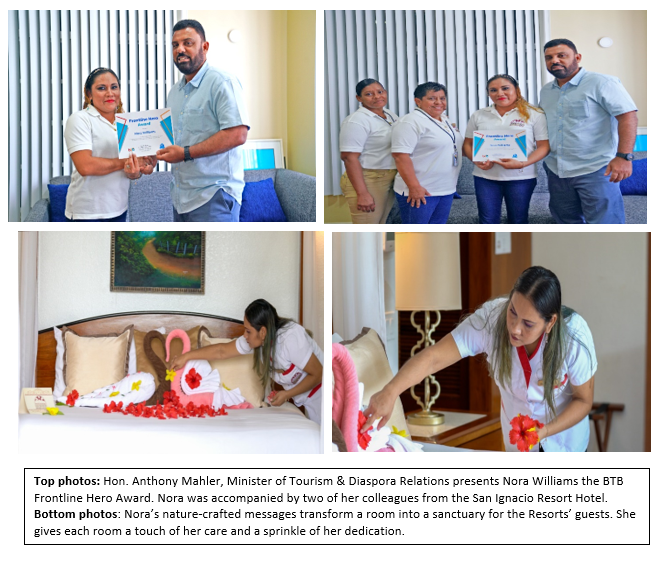 The BTB's Frontline Hero Award program was established last year to recognize outstanding Belizeans who have served Belize beyond their call of duty. This program is operated in collaboration with tourism stakeholders who have been generous in contributing prizes to the honorees. Stakeholders wishing to contribute a prize towards the Frontline Hero Awards Program can contact BTB's Public Relations Unit via email at [email protected] or Tel: 227-2420.