May 30, 2019
Posted by:

Perry Bodden

Category:

Community, News
BTB holds its second annual BTB Love Belize Sea Challenge to promote attractions of Belize's coastline 
Belize City, Wednesday, May 29th, 2019:  The second Belize Tourism Board (BTB) Love Belize Sea challenge, a grueling six-day adventurous extreme race covering over 218 miles of sea paddling. The challenge commenced at Punta Gorda on May 22ndand concluded at the Rainbow Beach in Corozal Town on Monday, May 27thas the kayakers crossed the finishing line amid thunderous cheering and applauses from the spectators.
Besides providing a truly unforgettable lifetime experience the race aimed to promote Belize as a key tourism destination for paddlers and kayakers; underscore Belize's rich and effervescent culture and history, including food, music and tradition, of the communities along the coastline; create environmental awareness with paddlers and fans on the important of protecting Belize's natural and cultural resources and provide visiting teams with a unique Belizean experience and opportunity to see Belize from a closer and local perspective.
On day one from Punta Gorda, the contenders travelled to Abalone Caye to Monkey River and to Placencia. On the second day, paddlers travelled from Placencia to Hopkins by road, due to rough seas and inclement weather, where they then resumed their journey to Dangriga. On the third day the paddlers went from Dangriga Town to Gales Point Manatee Bar Mouth to Old Belize then Belize City. The Fourth day covered the distance from Belize City to St. George's Caye to Caye Caulker and San Pedro. On the fifth day the participants travelled  from San Pedro to Blackadore Caye and rested in Sarteneja. The final day took the paddlers from  Sarteneja to Rainbow Beach in Corozal Town where the crowd came out in large numbers to welcome them.
There were three different categories of competitors, namely Male, Female and Mix teams with cash prizes totaling over $30,000 dollars. At the end, when the tally for the overall time count was made the event organizers issued the following results:
MALE TEAM CATEGORY
First Place winners – Private Belize Adventures, who completed the race in 34 hrs 23 min
Second Place winners – Recinos Imports BDF Recce, who completed the race in 35 hours 17 min
Third Place winners – Belize Coast Guard, who completed the race in 35 hrs 18 min
MIXED TEAM CATEGORY
First Place winners – Belize Coast Guard Charlie, who completed the race in 38 hrs 58 min
Second Place winners – Dibary Jaguars, who completed the race in 39 hrs 1 min
Third Place winners – Belize Hotel Supplies
WOMEN CATEGORY
St. George's Caye Resort BDF, who were the only women to complete the race.
Prior to the race, the BTB launched a major promotional campaign both at home and abroad.  Among these included the following:
A co-op marketing in Europe through tour operator Pioneer Expeditions with a holiday
package and a digital campaign with Adventure Travel Magazine.
North America Market – Earned Media with outreach to kayaking magazines, social media
content and an influencer engagement in country.
Awareness at travel trade events and social media platforms for social content before and
during the race.
Countrywide media tour to promote the event. This included presentations on both radio
and television stations.
During the challenge, there were booths at race points for BTB branding and engaging with
the public.
BTB is proud to be a part of this historic event which explored, promoted and conserved our beautiful Jewel, Belize a Curious Place!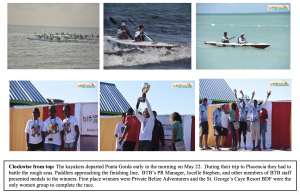 For further details on the BTB LOVE BELIZE SEA CHALLENGEplease visit the following link:    https://www.facebook.com/lovebelizeseachallenge/or contact Love FMat 223-0246 or 203-0528 or call Julia at 621-1955 or Manuela  at 622-5807; email: [email protected]