BTB holds annual Tourism Conference with a focus on sustainable development
November 2, 2017
Posted by:

Perry Bodden

Category:

International, News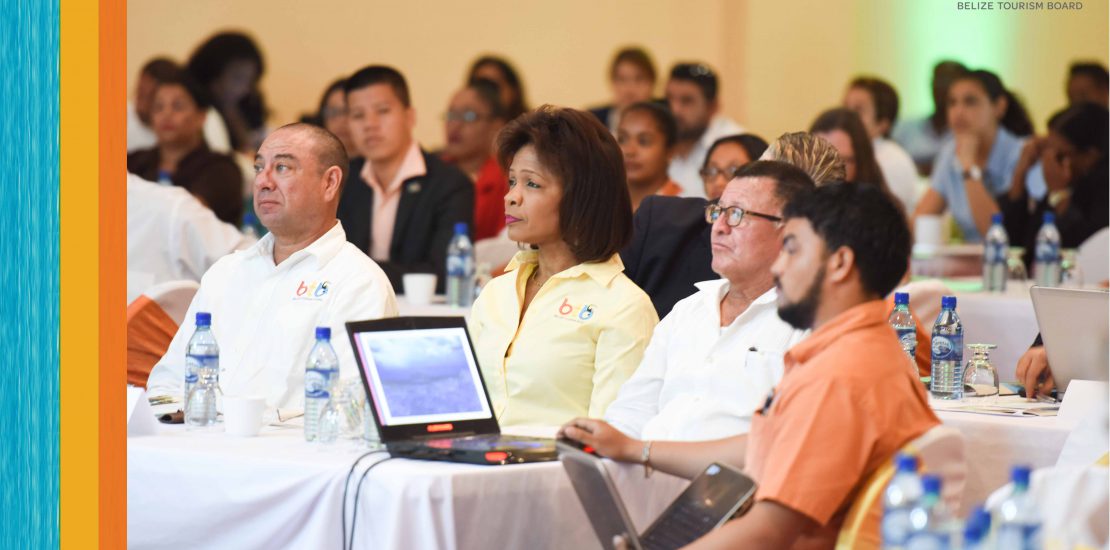 BTB holds annual Tourism Conference with a focus on sustainable development
Belize City, Tuesday, October 24th, 2017:  Over 180 tourism stakeholders throughout Belize converged at the Ramada Belize City Princes Hotel on last Friday to discuss the sustainable development and the opportunities springing from the emerging trends in the industry. The event was the annual BTB Tourism Industry Conference, which evolves from the BTB's strategic plan on equipping stakeholders with pertinent and relevant information for the industry's enhancement.
The one-day conference was held under the theme: Sustainable Tourism and its Impact on the Belize Market. The morning session focused on Responsible Tourism and Best Practices: Its Value and Importance while the afternoon session focused on Culinary Tourism: An Emerging Trend.
The conference included dynamic speakers from the United Kingdom, the U.S., Caribbean and Costa Rica. These included Dr. Peter Tarlow, who spoke on the topic: Safety and Security requirements in the Tourism Industry; Trudi Pearce, who spoke on Building a Better World through Responsible Tourism: Business Case on Customer Profile and Communication Strategies; Amanda Charles, who made a presentation on the Framework for Capacity Building – Enhancing Destination Competiveness and Sustainable Tourism Practices; Erik Wolf, who spoke on Food Tourism and a Sense of Place in Belize; Alfredo Echeverría, who elaborated on the topic: How Belize can Adapt as an Emerging Culinary Destination and Joxan Obando, who shared his expertise on Creating a Sustainable Culinary Plan.
In addition to the speakers, there were testimonials by representatives of three local tourism resorts on their experiences as they embraced sustainability as well as their international recognitions and certification.  These included Mrs. Lucy Fleming from the Lodge at Chaa Creek, Mr. Seleem Chan from Hamanasi Adventure & Dive Resort and Ms. Burga Pattinson from Gaїa River Lodge.
The conference commenced with an informative video entitled: Where did the Year Go?, which highlighted the industry's major accomplishments during 2016 and concluded with a lively discussion entitled: A Glimpse into the Future. This discussion was spearheaded by Mrs. Karen Bevans, Director of Tourism.  A short presentation was also made by Olson, BTB's Marketing Agency in the U.S., on the latest marketing plans.
Hon. Manuel Heredia Jr., Minister of Tourism & Civil Aviation, Mr. Yashin Dujon, CEO in the Ministry of Tourism & Civil Aviation were also present during the conference among other invited guests.
The BTB's annual Tourism Industry Conference theme proved effective as it aligned with 2017, which has been declared as the International Year of Sustainable Tourism Development by the United Nations. It was also celebrated within the context of Belize's National Sustainable Tourism Management Plan (NSTMP) 2030, which envisions that 'the tourism industry growth will most efficiently and effectively harness the cultural, environmental and socio-economic benefits that tourism has the potential to provide.'
At the end of the conference, stakeholders and participants gained a better appreciation of the benefits of the aforementioned themes/concepts and their potential to contribute to a memorable visitor experience and a greater increase in visitor arrivals to Belize.