January 26, 2022
Posted by:

Xiomara Sawers

Category:

Business plans, Events, International, News, Uncategorized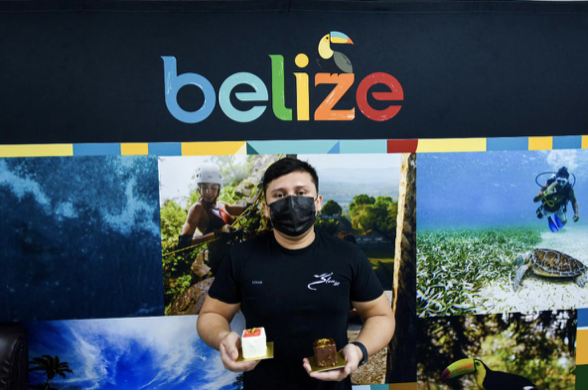 BTB Awards Winner of Innovation Challenge
Belize City, Belize, Tuesday December 1, 2021: In a short cermony today, The Belize Tourism Board (BTB),  announced the winner of the first Innovation Challenge. Cognizant of the importance of supporting small businesses and budding entrepreneurs, BTB launched this initiative in early September, under the theme "INNOVATION CHALLENGE:  TRANSFORMING TOURISM FOR THE FUTURE".
The objective of this initiative was to provide the financial support to a Belize local academia that pitched a viable innovative business plan for a product or service that will create significant returns for Belize's tourism industry.
With a total of 12 entries; narrowed to 5 finalists, Mr. Einar Marin emerged victorious, copping the $10,000 cash prize.  Mr. Marin, the owner of Bleu by Einar Marin, has a Bachelor's Degree in Gastronomy from Le Cordon Bleu Mayab in Merida, Mexico. He also has six months of experience from Nizuc Resort & Spa in Cancun, Mexico and six months of experience from Oriol Balaguer, a worldwide known Pastry Chef from Barcelona, Spain.
He currently creates entremets, European style pastries and breads such as croissants, brioche donuts, sourdough, Mexican style breads and seasonal breads such as Hot Cross Buns and Pan de Muerto, using local ingredients.
In today's ceremony, Mr. Marin noted, "Bleu by Einar Marin is dedicated to becoming the first Belizean pastry shop to offer modern and creative European style desserts and breads in the country of Belize".
Josue Carballo, BTB's  Director of Industry Development, congratulated Mr. Marin and noted that this venture sets the foundation for BTB's stategic objectives of capacity building and support of the tourism industry. He further noted the importance of culinary tourism and reiterated that the use of local ingredients allows for Belize's authenticity and diverse culture to be promoted.
Also present for the cermony was Einar's father, Mr. Celso Marin, who received the Mentorship award – a one-night stay for two with continental breakfast,courtesy of Naia Resort and Spa.