BTB 2016 Scholarship Recipients
September 26, 2016
Posted by:

Perry Bodden

Category:

International, News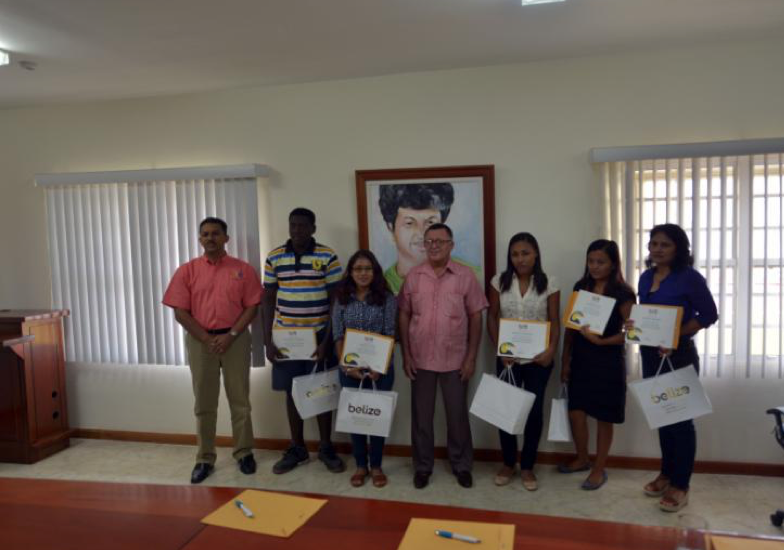 BTB 2016 Scholarship Recipients 
Belize City, Belize – August 24, 2016 –Today, the Belize Tourism Board awarded five (5) scholarships to students venturing into the Tourism field of studies. Minister of Tourism and Civil Aviation, Hon. Manuel Heredia Jr., presented each student with their scholarship package.
Two Associate Degree scholarships were awarded. The recipients were Clarita Ack, of Toledo Community College, and Ahkeem O'Brien, of St. John's College. Both students received a two-year tuition scholarship for a Tourism Program at one of the Junior Colleges in Belize.
One Bachelor Degree in Tourism Management was awarded to Janeen Nal, of the University of Belize. She received a two-year tuition scholarship for the Tourism Management Program at the University of Belize.
The Jean Shaw Scholarship was awarded to Nissa August, of the University of Belize. She received a two-year full scholarship for the Tourism management Program at the University of Belize.
The Jean Shaw Tourism Scholarship was established in memory of the late Jean Ursilla Shaw, a renowned female, tourism pioneer, who played an integral part in the development of Belize's tourism industry in her lifetime. The scholarship is to support the development of qualified Belizean females pursuing a career in tourism.
One scholarship for Culinary Studies was awarded to Einar Marin, of St. John's College Junior College. He received $10,000 towards a culinary study of his choice.
The recipients were selected based on a score sheet which measured various factors such as grades/GPA, work and community service experience, an essay describing their career goals/aspirations, and their achievements/awards. Those with the highest scores were then reviewed thoroughly and the top candidates were selected.
Director of Quality Assurance, Herbert Haylock, commented "these scholarships provide an opportunity for deserving students to pursue their educational interests in the field of Tourism. The Belize Tourism Board embarked on establishing a scholarship program several years ago as a tangible mechanism to create interest in the Tourism field and to more importantly support academically promising young students. The scholarships directly help the students by providing financial support covering tuition needs, fees and books based on the type of scholarship awarded. The students have an opportunity then to focus on their courses and grades as they work towards academic successes. The Belize Tourism Board is pleased to continue supporting our young students and wishes all 2016 scholarship recipients the best in their studies."
The Belize Tourism Board wishes to congratulate all students pursuing their degrees. We look forward to meeting the future Tourism Pioneers of Belize.