August 16, 2023
Posted by:

BTB Admin

Category:

Community, Events, News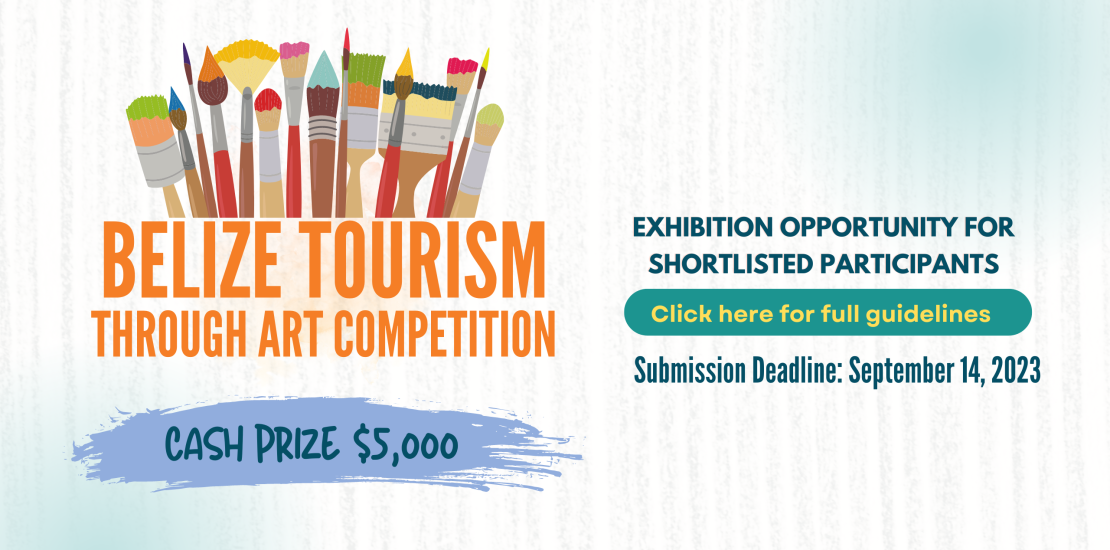 Welcome to "Belize's Tourism through Art," an exhilarating painting competition that celebrates World Tourism Day 2023. This event invites artists to create captivating masterpieces reflecting the theme of "Tourism and Green Investments," while also showcasing Belize's cultural richness, breathtaking landscapes, and unwavering commitment to sustainability.
Theme: Tourism and Green Investments
The pandemic-driven disruptions have opened doors to redefining tourism investments in line with Agenda 2030 and Sustainable Development Goals. The United Nations World Tourism Organization (UNWTO) recognizes investments as pivotal for recovery and growth.
UNWTO highlights the value of targeted investments that benefit People, Planet, and Prosperity. By focusing on these dimensions, tourism can empower individuals, enhance sustainability, and drive inclusive economic progress. These investments spark innovation, entrepreneurship, and climate action while building resilient destinations.
The theme "Tourism and Green Investments" spotlights the urgency to invest for a sustainable tourism sector. It invites artists to capture the symbiosis between tourism and investments that benefit people, the environment, and economic growth. Artworks will inspire a deeper understanding of the theme's potential impact on Belize's tourism sector.
Competition Guidelines:
Eligibility:
Participants must be legal residents of Belize.
Participants must be 16 years of age or older.
Staff of the Ministry of Tourism cannot participate in the competition.
Artwork Theme:
Artists must create works that intricately weave the theme of "Tourism and Green Investments" into their paintings.
Artworks should vividly reflect Belize's rich cultural heritage, awe-inspiring natural landscapes, and commitment to sustainable tourism practices.
Artwork Medium:
Artworks must be created on canvas using any traditional or contemporary painting medium, such as oil, acrylic, mixed media, or watercolor (on water color paper).
Artwork Requirements:
Each artwork must be an original creation made exclusively for this competition.
Paintings must resonate with the chosen theme, capturing the essence of Belize's tourism potential.
Submissions should be high-quality photographs or scanned images of the completed paintings.

For exhibition purposes the size of the artwork can range up to a maximum of 24 inches x 36 inches.

Artists are encouraged to showcase their unique and original interpretations of the theme. While drawing inspiration from various sources is welcomed, submissions must not infringe upon the intellectual property rights of others. If an artist incorporates concepts or ideas from external sources, proper acknowledgment, authorization, and credit to the original creators are expected. Plagiarized, unauthorized use of existing artworks, or any form of copyright violation will result in disqualification from the competition.
Submission Process:
Participants should submit photographs or scanned images of their completed artworks via email to [email protected] with the subject line: "World Tourism Day Art Competition" by September 14, 2023.
Each submission must be accompanied by the completed submission form (click here), a digital portrait photo of the artist, a brief biography, the artist's name, contact details, and a brief description of no more than 150 words of the artwork.
Shortlisted artworks must be physically submitted to BTB's office at 64 Regent Street in Belize City between September 18-22, 2023 during normal opening hours.
Art Exhibition:
All shortlisted artworks will be displayed in an exclusive art exhibition in Belize City.
Participants are responsible for covering the cost of shipping and transporting their artworks to and from BTB's office for submission and potential exhibition.
The exhibition aims to celebrate artistic talent and promote World Tourism Day.
Judging Criteria:
All submitted artworks will go through a shortlisting process by an external panel of judges.
Shortlisted artworks will move forward to the final stage of judging and will be displayed in an art exhibition.
Artworks will be evaluated based on the following criteria:
Interpretation of the Theme: How effectively the artwork captures the theme "Tourism and Green Investments" and its relevance to Belize's tourism.
Artistic Technique and Creativity: The level of skill and technique demonstrated in the artwork and the imaginative and innovative approach used to convey the theme.
Visual Impact and Composition: The overall visual appeal and emotional impact of the artwork and the arrangement and organization of visual elements within the composition.
Color Usage and Harmony: The skillful and deliberate use of colors to convey mood, atmosphere, and thematic elements.
Originality: The extent to which the artwork presents a unique perspective or concept within the theme.
Ability to Inspire and Captivate: The artwork's ability to engage and inspire viewers, encouraging an appreciation for Belize's tourism potential and sustainability efforts.
Prize:
The Grand Prize Winner will be awarded as follows: 
A cash prize of $5,000 BZD.
Outstanding recognition through media coverage.
Physical artwork will be displayed at BTB's office.
Ownership and Usage Rights of Winning Artwork:
By submitting your artwork to the competition, the artist acknowledges and agrees that the Belize Tourism Board shall retain possession of the physical winning artwork. The artist grants the Belize Tourism Board permission for an indefinite period of time to utilize a digital copy of the artwork solely for non-commercial purposes, including but not limited to, promotional materials, educational initiatives, publishing on digital platforms including social media, activities related to promoting tourism in Belize.
It is understood that the artist of the winning artwork shall retain all creative and economic rights to the submitted artwork. This includes the exclusive right to reproduce, distribute, display, and license the artwork for personal and professional use. The Belize Tourism Board will not exploit the artwork for commercial gain.
The Belize Tourism Board commits to providing proper attribution to the artist whenever the digital copy of the artwork is used, in a manner agreed upon by both parties.