December 22, 2017
Posted by:

Maynor Larrieu

Category:

Community, News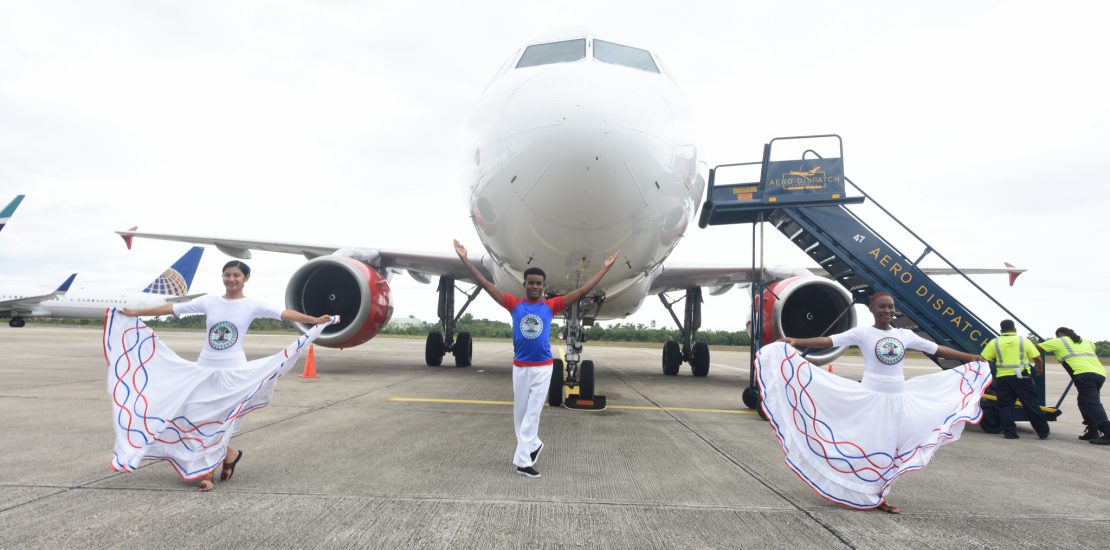 Contact: Mike Hernandez Jr.
Communication and PR Officer
PHONE: 501-227-2420 FAX: 501-227-2423 TOLL FREE: 1-800-624-0686
WEBSITE: travelbelize.org; email: [email protected]
ADDRESS: P.O. Box 325, #64 Regent Street, Belize City, Belize
Air Canada begins new flight service to Belize
Belize City, Tuesday, December 19th, 2017:  Air Canada began a new non-stop flight service to Belize on Friday, December 15th, making it the second major Canadian Airline after WestJet to offer a direct weekly flight service to Belize from Pearson International Airport in Toronto, Canada.
To mark the occasion, an official inaugural ceremony was held at the Departure Lounge of the Philip Goldson International Airport.
In his main address, Hon. Manuel Heredia Jr., Minister of Tourism and Civil Aviation hailed the new flight as "an exciting day for Belize, as we welcome Air Canada, as our newest member of Team Belize."
"Through this new partnership, Canadians and other international travelers, alike, will have ample opportunity to conveniently access one of the fastest growing tropical destinations in the world. Whether it be our unique and breathtaking natural attractions, our diversified culture and traditions, Belize provides a perfect getaway ambiance filled with adventure, fun and curiosity," Minister Heredia said.
"This partnership is also no coincidence. It also is no coincidence that Belize is quickly becoming a popular destination for Canadian outbound travelers. Canada and Belize have a long history of bilateral cooperation and as members of the Commonwealth both countries share historical traditions, systems of government and some may argue even some cultural ties. The importance of the Canadian market for Belize can certainly not be overstated.  Canada continues to maintain its status as the second largest tourism market for Belize after the United States," the Minister stressed.
Other speakers included Mr. Jorge Espat, C.E.O. of the Belize Airport Concession Company (BACC), Mr. Lynn Young, Honorary Consul of Canada to Belize and Ms. Reina Nieto, Air Canada's Regional Manager.
The ceremony also included a cutting of the symbolic ribbon, a water canon salute upon the aircraft's arrival and give-aways to arriving passengers, courtesy of BTB.
The new Air Canada flight is a resounding reassertion that Belize continues to be a growing and attractive destination in Central America and the Caribbean. Likewise, it emphasizes the effective and extremely successful efforts of the Belize Tourism Board to market Belize as a must-visit tourism destination. It is expected that this new flight from Toronto will inject a new energy in BTB's efforts to increase Belize's presence in Canada.  Likewise, it will make it easier for travelers to enjoy the beauty, the myriad attractions and warm hospitality of Belize at a time when the tourism industry is poised for further growth.
About the Belize Tourism Board
The Belize Tourism Board (BTB) is a statutory body within the Belize Ministry of Tourism and Civil Aviation, and it is governed by a Board of Directors appointed by the Minister of Tourism and Civil Aviation. The BTB works in conjunction with members of the private sector – including the Belize Hotel Association, Belize Tourism Industry Association and Belize National Tour Operators Association – and is dedicated to building tourism in the most economically and environmentally sustainable manner. As a part of its responsibilities, the BTB promotes Belize as a premier tourism destination to both in-country and international consumers. Among its outreach to the international travel market, the BTB markets the country's unique attractions to travelers, members of the travel trade industry and media outlets in key markets. The BTB is also dedicated to developing and implementing tourism programs that will help strengthen and grow the Belizean tourism industry; promote good destination stewardship; and instil high quality standards for accommodations and travel experiences. For more information on the BTB and its services, visit www.travelbelize.org.