The Ball in Madrid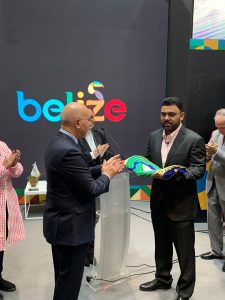 There are trade shows and then there is FITUR.  The name stands for Feria Internacional de Turismo, which in English translates to International Tourism Trade Fair. It is the leading trade fair for inbound and outbound markets in Latin- America. Tourism professionals congregate at FITUR because it is the global meeting point for those working in the tourism sector. It is also a yearly hype for enthusiasts tracking the sector's latest trends and for anyone wishing to discover what destinations across the world have to offer. IFEMA, short for Fair Institution of Madrid, is the entity in Madrid, Spain that is charged with hosting the fair.  It is a five-day Tourism industry extravaganza where relationships are made, deals are put into motion, ideas and information are shared, and new industry insights are developed.  According to IFEMA's website, FITUR is tourism, it is business, it is specialization, it is cutting-edge, and it is knowledge. The presence of 5,300 + media is testament to the buzz this show creates every year. Held in January, FITUR is the ball that everyone in the Tourism industry wants to attend and should attend.
If FITUR is the ball, then Belize might have been its belle. At this year's fair, the Central America Tourism Agency (CATA) and the Central America Tourism Council (CCT) transferred their pro-tempo presidency to our own Honorable Anthony Mahler, Minister of Tourism and Diaspora Relations. Minister Mahler has vowed to continue working towards achieving the region's tourism agenda objectives established in its Strategic Plan for Sustainable Tourism Goals. But that proud moment is not the only reason Belize is the potential belle of the Ball. While a fairy godmother did not magically transport the Belize Tourism Board's (BTB) team or any of its accompanying stakeholder groups to Madrid, nor did Belize's impressive and futuristic booth at the fair appear from thin air, and certainly none of the content, digital videos, or creative marketing material form from the swoop of a wand. All those things took vision, planning, and execution. Belize worked hard to set itself apart at the fair. To maximize its visibility, Belize was strategically positioned in the Central American and the Caribbean pavilion. At the fair we must stand our own against global competitors. We must present a unique tourism product to stand out. Based on recent international mentions from publications such as the digital tourism news outlet TravelPulse, Montecristo Magazine of Canada, the personal finance information provider MoneyWise, Caribbean Tourism Authority, the travel discovery platform TripsToDiscover, Essence, the renowned African American lifestyle magazine, MSN news, and Dutch publication, Travelution Expert Belize is cited for a variety of inimitable attributes.  Belize is a curious place, and the world appears to be taking notice. Our unique offerings, our position as a part of Central America and the Caribbean regions, and being a Spanish and English-speaking country are some of what gave us the proverbial glass slipper at this year's FITUR.
Belize presents travelers and visitors with a compact tourism product. It is truly unique. Our tourism industry is small and new, but it is transcendent. This week we offer dualism for the multiple irreducible elements that our tourism product offers. We offer beaches and rain forest, caves and reefs, Spanish and English, Latin America and the Caribbean, laid back and adventure, economic and high-end etc. FITUR is the trade show of all trade shows and Belize was there on full display. The belle of the ball? Maybe. The country with one of the most unique tourism product? Definitely.
See you next week.
The Belize Tourism Board