CHAT Tourism - Now, That's Deep!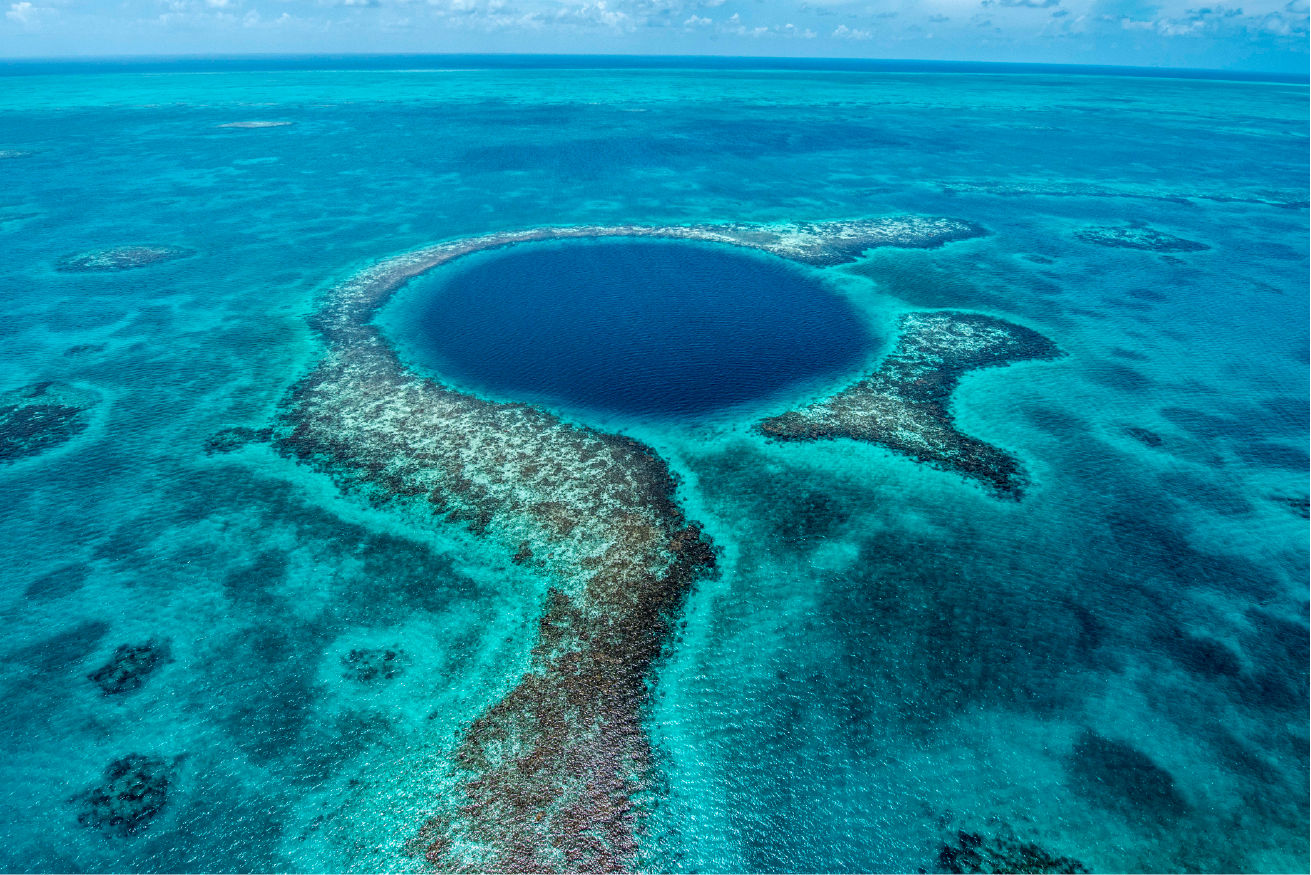 From an aerial view, it looks like a huge deep well in the middle of the sea.  With some imagination, it could even resemble an enormous round eye with a really dark dilated pupil. Whatever it may look like from above, the mysteries beneath the dark blue waters are even more intriguing. Once seen, the pictures and ideas of it become indelibly etched into the mind's eye. Yup, I am talking about The Great Blue Hole of Belize –  a sinkhole in the middle of the sea and a UNESCO World Heritage Site.  A sinkhole is a depression or hole in the ground caused by some form of collapse of the surface layer. There is more to this blue hole than meets the eye. Apart from measuring more than 1,000 feet across and more than 400 feet deep, some of its deeper secrets have been revealed. In 2018, a crew of scientists made the trip to the bottom of the Blue Hole to create a 3D map of its interior and discovered stalactites which means that the sinkhole used to be a big dry cave. Some scientists suspect that a cave was formed during the last Ice Age when sea levels began to rise and flooded the cave causing it to collapse. Today the sinkhole is beneath the sea and is home to reef sharks, giant corals, turtles, eels, and a variety of marine life. But, to think that some 14,000 years ago it was on dry land with water dripping from stone slowly creating its stalactites. The Blue Hole was a large dry cave. Now that's deep.
Divers and ocean adventurers have been enjoying the Great Blue Hole for decades but there is another sinkhole that deserves mention.  St. Herman's Blue Hole can be found in lush rainforest along the Hummingbird Highway. While it is only 300 feet in diameter and 100 feet deep, this tiny blue hole has nature trails, caves once used in ancient Maya rituals, and cool water that springs from underground rivers. Why are we talking about sinkholes so much? Well, they are ancient, they are home to land and sea creatures, they are a benefit to the tourism industry, and they fill us with wonder.
How many Belizeans have visited these two natural wonders? Perhaps not nearly enough.  All Belizeans should get to see, walk, dip, snorkel, dive, gaze at, swim in, float over, explore, and anything else that would create stalactites and stalagmites of memory and love for our country. Each year travellers from across the world come to Belize for diving. As the famous Jacques Cousteau declared in 1971, it is one of the top five scuba diving sites in the world. St. Herman was an 18th century Russian, North American missionary- the name is a part of the sinkhole's charm.
On this year's World's Ocean Day, the Belize Tourism Board (BTB) launched the Reef with a Beef campaign to raise awareness about ocean sustainability.  If the ocean and the blue hole had a voice what would they say? Apart from marine life and stalactites, in 2018 the crew from Aquatic Submarines also found plastic at the bottom of The Great Blue Hole. We say all this to say that the if we walk through, travel beneath, or scratch the surface of Belize, it reveals so much about our geography, our wildlife, and our habits. Let it not be that in ten years or ten thousand years all they find from this era is plastic. We are deeper than plastic.
Chat next Week.
Jasmine Anderson
For the Belize Tourism Board