A Belize Shark Ray Alley Snorkel
Shark Ray Alley offers you the rare opportunity to snorkel beside stingrays, nurse sharks and turtles.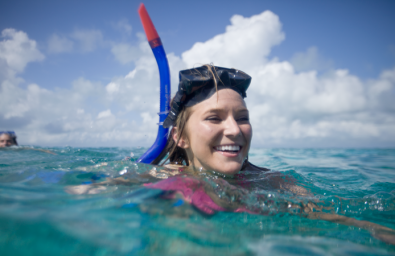 Once a place where fishermen would clean their catches, this 1,280-acre protected region, has evolved into a top snorkeling location!
Discover Shark Ray Alley, a people-friendly marine community that is a snorkeling attraction for both first-timers and skilled snorkelers/swimmers. Leap over your initial hesitation about being in open waters; among marine life, and embrace that state of awe…
Be fulfilled; let the docile natured Nurse Sharks, bonefishes and Sting Rays of Shark Ray Alley, inspire this bucket-list experience. Your expert tour guide will first get you fitted with a life-jacket, and snorkeling gear (traditional masks and fins); you're then free to jump-in and enjoy this unique interaction!
How Shark Ray Alley came-to-be:
Travelers will find history in all aspects of Belize; Shark Ray Alley is one such example! First used as a fish-cleaning location for the local fishermen community, resident marine life became friendly to visitors and have even been said to do tricks to amuse travelers.
Located 4 miles southeast of San Pedro Ambergris Caye.
The entire area is about 8 feet deep.
It is located near Belize's 185 mile-long Great Barrier Reef.
Spotted Eagle Sting Rays with wing spans of about 2 to 4 feet have been seen.
Nurse Sharks average around 5 to 7 feet.
Recently added to the Hol Chan Marine Reserve as "Zone D", in 1999, Shark Ray Alley continues to rise in popularity; travel to Belize and discover why… For more information on this and other events happening in Belize, or to get tips on planning your dream vacation, email us at: [email protected] or call us TOLL FREE at: 1-800-624-0686.